Top-Tier Office Carpet Cleaning in Etobicoke
Are your office carpets getting too hard to clean every day? It's time to hire a professional cleaning service to get the job done for you.
Forget working in a messy office - with office cleaning services at Go Clean Plus, you can enjoy a tidy workplace that permits increased employee productivity.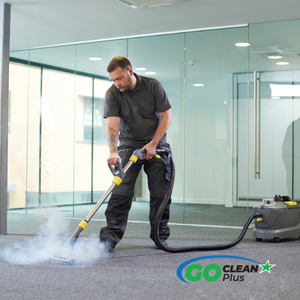 Why Choose Office Carpet Cleaning Services?
Provides a Safe & Healthy Workplace
Reduces the Risk of Liability
Safe & Healthy Environment
Long-term Benefits
Affordable Cleaning Solution
Improved Indoor Air Quality
Decreased Employee Sick Time
Improved First Impressions
Increased Work Productivity
Why Businesses Choose Carpet Cleaning Services
If you've been putting off getting commercial office cleaning services in Etobicoke now is the time. With several hours spent in the office, the last thing you want to do is clean. With Go Clean Plus cleaning services, you can stop worrying about the state of your office and high-traffic carpet areas.
Regular office cleaning creates a positive work environment in which everyone can thrive. When offices are messy, concentrating and working your best can be challenging. With expert office carpet cleaning and sanitization, your team can perform their best.
The professionals at Go Clean Plus are dedicated to providing high-quality carpet cleaning services that will leave your business, staff, and visitors feeling great.
What Our Carpet Cleaning Services Include:
Carpet Shampoo
Truck Mounted Hot Water Extraction Equipment
Stain Guard Protection
Premium Deep Steam Cleaning
Benefits of Office Carpet Cleaning in Etobicoke
There are many benefits of office carpet cleaning like improved cleanliness, fewer allergens and dirt, and better employee productivity.
24-Hour Scheduling: With 24-hour flexible service, there's no need for dirty carpets. The professionals at Go Clean Plus provide around-the-clock cleaning services to have a tidy and organized work environment.
Improved Productivity: It's proven that employees work more efficiently when they're in a clean, organized environment. When carpet areas are filled with dirt, dust or allergens, it causes your staff to be less productive. Not to mention, this causes staff to call in sick as their daily work environment is unhealthy. Allow your team to think more clearly in a disinfected atmosphere with premium carpet cleaning.
Reduce Contamination & Germs: When your carpets are left uncleaned, dirt, grime, and dust can accumulate, causing your workplace to become a health and safety hazard. Often, carpets are overlooked as dust and dirt are harder to see. Due to this, carpets and rugs can build mold, and allergens when not cleaned properly. Keep your staff safe with professional office carpet cleaning services by Go Clean Plus.
Go Clean Plus is Etobicoke's Top Choice for Office Carpet Cleaning
Your office reflects your business as a whole, and when it looks unorganized, dirty, or unpolished, it can make your workplace look unprofessional. No matter the size of your office, clean carpets are essential for maintaining a healthy and clean environment. Regardless of the state of your carpets, our promise is to provide extraordinary work with competitive pricing.
With over 20 years of experience, the experts at Go Clean Plus have what it takes to revamp your office space!
Keep your carpets clean, all year long.