Specialized Industrial Cleaning Services Etobicoke
Get thorough and reliable industrial cleaning services in Etobicoke from the team at Go Clean Plus.
Our team of industrial cleaners provides specialty cleaning solutions designed to target hazardous areas for deeper and more comprehensive cleaning in industrial spaces such as warehouses, factories, manufacturing plants, cold storage & refrigeration facilities, and flex buildings.
Choosing trained and experienced industrial cleaning services allows for more efficient cleaning that keeps your operations running smoothly.
Do You Need Industrial Cleaners in Etobicoke?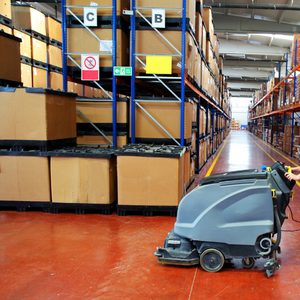 Industrial cleaning services allow you to get the clean you need in your facility without sacrificing the productivity of your team or the quality of your work. With a team of dedicated and specialized industrial cleaners readily available, you can manage dust, improve sanitization, and remove garbage seamlessly.
Have You Noticed:
A buildup of dust on the ground, walls, or fixtures around your facility?
Discolouration of the floors or windows?
More employees getting sick, sneezing, or suffering from allergies?
Garbage piling up or overflowing?
Employees cleaning up before they sit down to eat lunch or leave for the day?
Try Industrial Cleaning Services in Etobicoke from Go Clean Plus.
Realize the Benefits of Industrial Cleaning Services
Productivity: Save time and boost productivity with specialty commercial cleaning services for industrial properties in Etobicoke. Dirty, disorganized, or messy spaces are distracting and overwhelming. With regular visits from industrial cleaners in Etobicoke, your team will have more time to spend on the task at hand, meeting performance targets with greater efficiency.
Make a Positive Impression: When your facility is clean, you will improve employee morale while also impressing visiting customers and vendors. Our team of industrial cleaners has a detailed and strategic approach to cleaning, so even when customers drop in by surprise, you can impress them with the cleanliness of your facility.
Hazard Prevention: Industrial facilities often contain hazardous chemicals, equipment, and machinery. From toxic chemicals and sharp edges to complex tools, our trained industrial cleaners will safely navigate these spaces for the best industrial cleaning while respecting safety regulations.
Industrial Cleaning Services We Offer in Etobicoke
The key to impressive and result-oriented industrial cleaning services is incorporating multiple cleaning efforts. Our industrial cleaners at Go Clean Plus offer a range of industrial cleaning services.
Our Complete Approach to Commercial Industrial Cleaning Includes:
Industrial Carpet Cleaning: Free your carpet of embedded dust and dirt for a fresher and allergen-free environment.
Floor Cleaning: Avoid sticky floors and clear stains with vacuuming, mopping and sweeping, even including epoxy floor cleaning.
Industrial Power Washing: Pressure wash floors and exterior walls and surfaces to eliminate stuck-on dirt, grime, grease, and other stains.
Waste Management: Dispose of garbage from around your facility and do so with care, sorting and eliminating waste according to industry standards.
Custom Industrial Cleaning Services: If you don't see the service you're looking for, reach out to our team of industrial cleaners in Etobicoke to customize your commercial cleaning services.
Why Choose Go Clean Plus
Go Clean Plus is a leading provider of industrial cleaning services and commercial cleaning services in Etobicoke. Using advanced technology and flexible scheduling options, our team is guaranteed to deliver a complete cleaning that is convenient and effective.
Want to Learn More About Our Industrial Cleaners?