Office Cleaning Services in Etobicoke
Your office is the central hub of your business. It's where your team spends over one-third of their day, where customers make decisions about their business, and where vendors come in for meetings.
Office cleaning services in Etobicoke allow you to effortlessly establish and maintain a workspace that welcomes, comforts and impresses all stakeholders in your business. At Go Clean Plus, a top professional cleaning company in Etobicoke, we offer long-term, hassle-free cleaning services for your office.
Why Choose Professional Office Cleaning Services in Etobicoke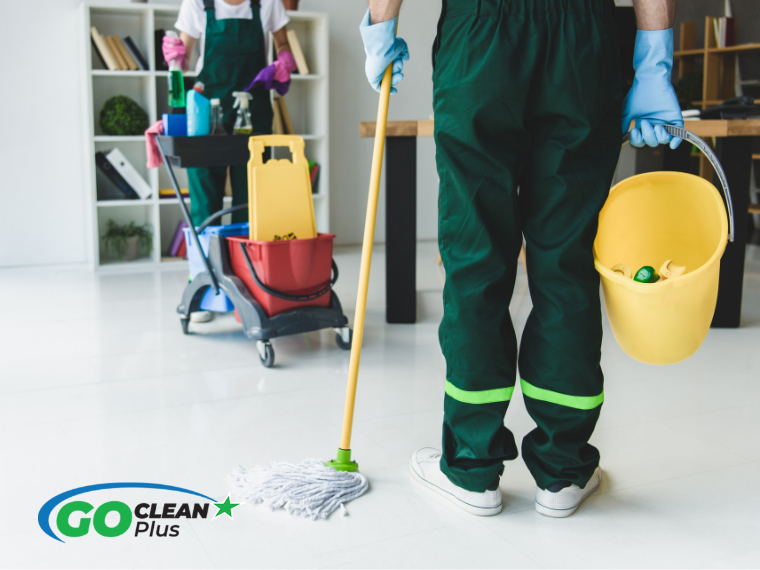 Do you or a team member spend valuable work time clearing trash, mopping floors, or wiping down surfaces?
With a professional office cleaning company in Etobicoke, you will:
Repurpose Valuable Time
Increase Employee Productivity
Impress Visiting Customers & Clients
Reduce Illness & Absenteeism
Boost Employee Morale
Regular office cleaning shows your employees you care and helps them focus on their daily tasks. Studies show that physical clutter or messes are distracting and can reduce focus. By scheduling regular cleaning visits with reputable and reliable office cleaning services in Etobicoke, you can be confident that your workspace is being kept in order.
What We Do at Go Clean Plus?
Streamline operations: take clean-up off your plate with a cost-effective professional office cleaning company in Etobicoke.
Interior Office Cleaning Services
Keep your office interior running smoothly with a well-maintained space free of dust, clutter, or bacteria.
Bathroom Sanitization
Kitchen & Break Room Clean Up
Carpet & Floor Cleaning
Window Cleaning Services
Day Porter Services
& More Specialty Cleaning Services
Exterior Office Cleaning Services
Upgrade your curb appeal and reverse the effects of bad weather for a welcoming building facade.
Waste Management
Walkway & Pathway Maintenance
Graffiti Removal
Parking Lot Debris & Garbage Removal
Schedule Your Cleaning Services
Take Office Cleaning Off Your Plate: Call Go Clean Plus to Set Up a Consultation. Learn about our services and find one that fits your office needs.
Customize Cleaning Plan: No Two Office Are the Same. Our cleaning experts will devise a custom office cleaning plan that will generate the results you want.
Hassle-Free Clean: Scheduled Office Cleaning You Can Rely On. We'll show up regularly to promptly clean and sanitize your office.
Get the Benefits of a Clean Office without Having to Worry About Cleaning. Call Go Clean Plus.
Why Choose Go Clean Plus for Office Cleaning in Etobicoke
Flexible Hours: We offer 24-hour office cleaning services. Schedule a time that works best for you and your business for optimal results.
Industry Experience: With over 20 years, Go Clean Plus is one of the most experienced professional cleaning companies in Etobicoke, which is evident in every job we do.
Technology & Strategy: We leverage advanced technology and fine-tuned approach to office cleaning, customizing our strategy to each business's priorities, floor plan, and needs.
Comprehensive Services: We are a full-range commercial cleaning service provider. Our team offers complete office cleaning services that are available on a regular basis.
Customer Satisfaction: Go Clean Plus is a top-rated, 5-star professional cleaning company in Etobicoke and elsewhere in Toronto because of our commitment to customer service and customer satisfaction.
Ready to Streamline Your Office Clean? Contact us today.