Office Cleaning Services Toronto
Offices are places where people congregate, close deals, and collaborate. Maintaining a healthy and inviting environment with reliable office cleaning services in Toronto from the trusted commercial, janitorial, and industrial cleaning team at Go Clean Plus.
When you choose office cleaning in Toronto, you choose reliable cleaning services, knowledgeable teams, advanced equipment, and high-quality equipment.
Do You Need Office Cleaning Services Toronto?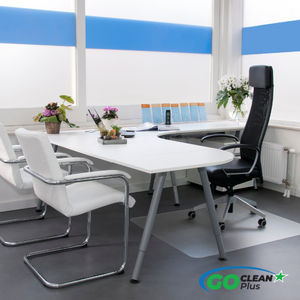 Offices of all kind can benefit from professional office cleaning in Toronto, but some common signs that your workspace would benefit from a commercial cleaning company include:
Increased Employee Absences
Overflowing Garbages
More Employees Displaying Symptoms of Colds & Flus
Unpleasant Odours Around the Office
Less Productive & More Distracted Teams
Save Time, energy & resources with office cleaning services in Toronto from a trusted commercial cleaning company like Go Clean Plus. When you leverage regularly scheduled office cleaning, you can maintain a clean, clear, and fresh environment while taking cleaning tasks off your employees' plate.
What Comes with Office Cleaning in Toronto
At Go Clean Plus, office cleaning includes a range of services that meticulously manage every nook and cranny of your workspace. When you choose office cleaning services in Toronto, you're choosing:
Carpet & Floor Cleaning: Starting from the ground up, office cleaning services eliminate trapped dust, dirt, and stains that linger on the ground. From carpets and tiles to hardwood flooring, Go Clean Plus will help build a clean foundation for your space.
Window Cleaning: Glass windows are susceptible to water stains and dirt from dirt, dust, and debris both inside and outside. Office window cleaning polishes the appearance of your office attracting more visitors and making team members more comfortable.
Sanitization & Disinfection: Viruses and bacteria can linger on high-touch surfaces such as door knobs, phone receivers, keyboards, and handrails. Using top level cleaning tools, Go Clean Plus strategically approaches sanitization for healthier air and surfaces around the office.
Scheduling Your Office Cleaning Services in Toronto
You don't have to interfere with your day to day operations to get the office cleaning services you need. With custom scheduling options available, you can choose cleaning intervals and timing that make sense for your business and Go Clean Plus will be on-site promptly at the time of your choosing to provide you with high-quality and comprehensive cleaning.
Bathroom & Kitchen Office Cleaning Toronto
The bathroom, breakroom, and kitchen are some of the most important areas in an office for your employees. When you invest in office cleaning services in Toronto that tidy and disinfect these spaces, your employees feel valued, improving morale and boosting productivity at work.
Why Choose Go Clean Plus for Office Cleaning Services
Go Clean Plus is one of the leading office cleaning services in Toronto providing offices around the city and the surrounding areas with high-quality, reliable, and thorough services. With years of commercial cleaning experience, our team knows how to navigate a variety of office environments fine tuning our approach to deliver the best results every time.
Whether you run a corporate office, medical office, or multi-use property, Go Clean Plus can help.