Maintain Your Facility with Specialized Industrial Cleaning Services in Toronto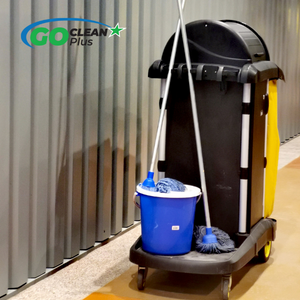 Increase organization, cleanliness, and hygiene in your commercial space with reliable janitorial services that deliver high-quality results. Dust, debris, and dirt can quickly accumulate in warehouses, factories, and industrial areas of all kinds. Professional industrial cleaning services in Toronto ensure your teams have clear workspaces that facilitate productivity.
At Go Clean Plus, our teams deliver specialized janitorial services tailored to your facility. We understand the importance of safety and cleanliness in the workplace. We work with you to determine custom-cleaning plans and schedules for your facility.
Benefits of Industrial & Janitorial Cleaning in Toronto
Dust, dirt, and debris are often produced at a higher rate in commercial facilities, which over time, can affect operations. Investing in janitorial services specifically for industrial spaces allows your business to complete everyday tasks with greater ease.
Healthier Air: Dust, debris, and volatile compounds can infiltrate the air and compromise the health of your environment. Regularly scheduled cleaning minimizes contaminants, regulating indoor air quality, which enables a safer environment for employees and visitors.
Reduce Sick Days: Dirty workstations often mean more dust and allergens that quickly cause trouble with the health of employees, triggering allergies, colds, and cases of flu. Illness at the workplace spreads quickly. If sanitization does not occur immediately, it can lead to large teams taking sick days and long periods of absence.
Improve Productivity: By taking measures to preserve your warehouse and plants with industrial cleaning services from Go Clean Plus, you will enable efficiencies by supporting organizations. With prompt visits from industrial cleaning services in Toronto, your employees will have more time to complete work-related tasks than stopping to sweep, disinfect, or clean. As a result, you can improve your turnaround time and productivity.
Janitorial Services for Industrial Properties
Get complete care for your property with a full range of janitorial services from a team you can trust.
Our industrial cleaning services in Toronto include the following:
Floor Cleaning: Deep clean, mop, sweep and sanitize concrete floors, epoxy floors, and carpets to remove stains, dirt buildups, grime, and dust for a better-looking space and more effortless movement.
Waste Management: Simplify disposal and garbage collection with convenient waste management services and janitorial cleaning that covers your facility and hybrid office spaces.
Cleaning & Sanitization: Take care of high-traffic surfaces and essential touch points, including computers, phones, and vital workplace equipment, with effective sanitization that eliminates lingering bacteria and viruses around your workspaces and restrooms.
We provide janitorial cleaning for all industrial and commercial properties, including factories, plants, distribution centers, warehouses, pharmaceuticals, and more.
Inquire about our Industrial Cleaning Services in Toronto.
Why Choose Janitorial Services from Go Clean Plus
Take control of your space while increasing efficiencies and saving time with janitorial services from Go Clean Plus. Our teams are trained and experienced in providing high-quality cleaning to various industrial properties. We use advanced tools and equipment to maintain a high standard of cleanliness.
Go Clean Plus is reliable, prompt, and professional, making customer service our top priority.