Office Areas That Require A Deep Clean By A Commercial Cleaning Company
Posted on January 25, 2022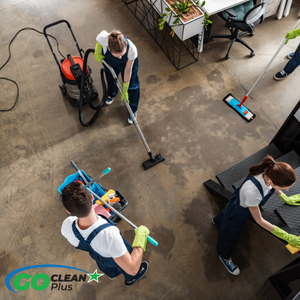 If you have employees at your place of business, it's essential to realize that there are many places in your office that require a deep clean that Go Clean Plus provides through their commercial cleaning services in Toronto. Don't let the supposed cleanliness and sterility of your office fool you; offices can become dirty quite quickly. Often times we take an "out of sight, out of mind" approach. However, many hidden areas in an office require daily cleaning, and this is where office cleaning services in Toronto may come in handy.
To keep your office space clean and safe for everyone who works there, you need to pay attention to a few things. Commercial cleaning companies in Toronto are better equipped to handle these tasks than individual people.
Here are the most important areas of the office that require a deep clean done by a commercial cleaning company:
Bathrooms
Like any other part of the office that has been used by different people, bathrooms need to be cleaned and disinfected regularly. Poorly kept bathrooms can not only look unprofessional and unsightly but can also become health hazards such as breeding grounds for bacteria harmful to you and your employees. The interior of washrooms is a space that tends to collect a lot of germs and grime because of all the dirty hands that touch it throughout the day.
Even if you have a cleaning staff that cleans the bathrooms regularly, they might miss some minor details. That is why it is essential to have your bathrooms deep cleaned by a commercial cleaning company, like Go Clean Plus. They will make sure that your bathroom is as clean as possible.
Baseboards
The baseboards are the least visible areas of your office but can be the dirtiest. Deep cleaning baseboards is essential. These are the areas of any commercial space where dust often gathers, especially in offices. The dust that is constantly moving in the air falls and accumulates on these places, and this can be one of the reasons why you notice allergy symptoms while you're at work. It is very important to have your commercial cleaning company deep clean them throughout the year.
Kitchen
Fridge
Your fridge is usually piled up with leftover food, drinks, and condiments. Toss out expired food items and wipe your fridge down to get rid of germs and bacteria.
Cupboards
Doors and drawers are magnets for germs. Remove excess dust and grime by giving them a good scrub with soap and water.
Sink Edge
This area is a magnet for grime. Grime gathers over time in the edge of the sink, making it easy for bacteria to grow in this area. As you use your sink, it collects food scraps and can grow bacteria quite quickly. The cleaning products that your office cleaning company uses on this area is important as well. If they use a surface cleaner, you risk damaging your sink. Contact Go Clean Plus to learn about the safe and effective cleaning products we use.
Hire Go Clean Plus for your Commercial Cleaning Needs in Toronto
Offices are difficult to clean because of their rooms' varying degrees of dirtiness, size, and complexity. A commercial cleaning company, like Go Clean Plus, performs an initial assessment of your office and creates a customized cleaning plan to meet your specific needs.
Just like hiring a professional commercial cleaning company in Etobicoke, Mississauga, Toronto and the GTA, you need to ensure that you hire the best office cleaning services in Etobicoke, Toronto and the GTA. Go Clean Plus has provided professional cleaning services for more than 10 years. Our expert cleaning teams always come equipped with the latest equipment and supplies to battle all types of dirt and grime. Contact us today about our commercial cleaning services in Toronto.