Why Leverage Day Porter Services for Commercial Cleaning Mississauga
Posted on February 22, 2023

As a business owner in the GTA, you know the significance of customer perception. And a clean and organized facility is critical for a professional and inviting ambiance for clients and employees. This is where day porter, janitorial services and commercial cleaning in Mississauga play a pivotal role in maintaining an immaculate facility. They're an invaluable asset, your first defence against a dirty and unhygienic environment. Trained day porters from Go Clean Plus can oversee and perform janitorial services during business hours to ensure a spic-n-span commercial space or office. Read on to discover how leveraging day porter services can be a game-changer!
Janitorial Services Managed By Day Porters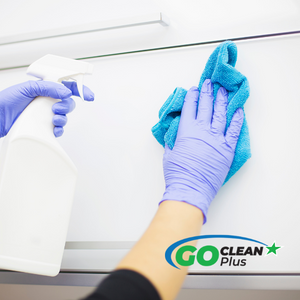 Day porters can undertake an array of janitorial services (and more!) to keep your commercial space safe and clean for customers and staff.
These can include:
Sweeping & mopping floors
Vacuuming
Disinfection or sanitization of common areas
Cleaning restrooms
Restocking restroom supplies
Taking care of the trash
Tackling accidental spills & drops.
Advantages of Day Porters for Janitorial Services
Spotless & Well-Kept Facility: Day porters are trained to maintain high cleanliness standards and quickly clear spills and other cleaning exigencies. This ensures that your business premises are always presentable, providing a welcoming and professional atmosphere for clients and visitors.
Safety & Hygiene: Engaging day porters assures a safe workplace as they can perform regular sanitization and other cleaning tasks.
Service Customization: Day porter services can be customized according to your organization's specific requirements. For example, if your facility requires a higher level of cleanliness during business hours, day porters can be scheduled to clean them more often instead of once a day. Or if your office break room is heavily used, your day porters can sanitize and mop it a couple of times a day.
Lower Maintenance Cost: You only need to pay a flat fee for engaging day porters for commercial cleaning in Mississauga. This reduces your overall maintenance costs. Moreover, you also save on costs associated with an in-house cleaning crew.
When to Schedule Day Porter for Commercial Cleaning
The optimal time to schedule day porter services is during regular business hours. This ensures that your facility is thoroughly cleaned and remains professionally organized at all times. However, if you require specialized deep cleaning or other such cleaning services, the day porters can come after business hours.
How to Support Your Day Porter
To ensure effective and efficient day porter office cleaning services, it is essential to provide them with the necessary support and resources. This may include providing them with the right cleaning supplies and products. Or provide regular constructive feedback so they know what's working well and what needs improvement.
Customized Day Porter Services from Go Clean Plus
Whether you're looking to enhance your existing janitorial services or are just starting to think about the benefits of day porters, we are here to help. Go Clean Plus offers a wide range of janitorial services and day porters for commercial cleaning in Mississauga, Toronto, and the surrounding region. Our professional day porter services can take the upkeep and maintenance of your facility to the next level! With superior cleaning, professional service, and green cleaning supplies, the pros at Go Clean Plus will keep your premises spotless and well-maintained. So why wait?
Connect with us today and take the first step towards a clean and hygienic workspace.