The Best Commercial Cleaning Services In Toronto for Your Restaurant
Posted on November 02, 2021

When it comes to treating yourself to a nice meal, everyone has their favourite spot they like to visit. However, the level of cleanliness of a restaurant's kitchen and dining areas is just as crucial as its menu and presentation.

For one thing, if a restaurant has terrible cleanliness standards, then this could potentially translate into your employees and patrons getting sick. More importantly, your lack of cleanliness can reflect poorly on your business as a whole. By hiring a commercial cleaning company in Toronto, you can ensure your restaurant maintains high standards of cleanliness and hygiene.
Restaurant owners know that cleanliness is one of the most important factors customers consider when eating out. According to a survey by a cleaning products company, 65% of people say they have been deterred from eating at a restaurant because the facility was not clean.
Benefits Of A Commercial Cleaning Company For Your Restaurant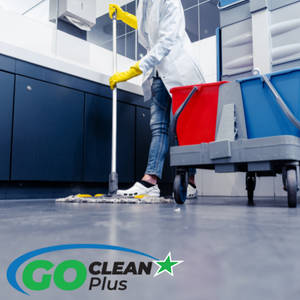 Go Clean Plus offers commercial cleaning services in Toronto for restaurants at affordable prices. If you haven't yet considered hiring a commercial cleaning company for your restaurant, then you should. Commercial cleaning companies can help restaurants in several ways.
Regular Cleaning
First, commercial cleaning companies provide regular janitorial services for businesses looking to maintain a clean and sanitized environment. Regular janitorial services for restaurants are essential in maintaining the profitability of the business. If your restaurant is not receiving regular cleaning services, you may risk losing patrons due to the appearance of the business.
Flexible Cleaning Schedules
A cleaning crew will visit your commercial property daily, weekly, bi-weekly, monthly, quarterly, semi-annually or annually to suit your needs and to provide you with the best possible service. Our cleaners operate with utmost care and professionalism and will make sure no dirt will escape the premises. We guarantee all our employees undergo thorough training and our supervisors check up on them regularly to ensure high quality of work.
Saves You Time
If you're trying to juggle the day-to-day demands of running a restaurant, it can be hard to find the time you need to focus on cleaning your establishment. Why spend precious hours mopping, vacuuming, and scrubbing when our professional cleaning company can do it for you?
One of the reasons for investing in a cleaning crew is to save time and money spent on doing the job yourself. However, it is way more than that! Having professionals pick up after you frees you from worrying about how to get into that corner of your property or how to get to places you could never reach by yourself. Leaving your hands free to focus on other things while we take care of all the dirty work.
Our Commercial Cleaning Services For Restaurants
To maintain the overall cleanliness of your restaurants properly, you need a professional commercial cleaning company in Mississauga, Etobicoke, Toronto or the GTA to support you. Go Clean Plus uses environmentally friendly products that are specifically formulated for commercial spaces like restaurants and schools.
Go Clean Plus can provide a range of services for restaurants, including:
Floor cleaning

Carpet cleaning

Window cleaning

Restaurant disinfection

Post-construction cleaning

Emergency cleaning services
At our professional cleaning company, Go Clean Plus, our trained professionals will ensure your restaurant's surfaces are clean and shiny, its air is free of dust, and its floors are spotless. We take the stress out of the food service industry by providing your establishment with the best commercial cleaning services.
Hire Our Restaurant Cleaning Services
Your customers trust you to deliver quality food and produce consistently. Keeping your restaurant or business premises at a high standard of cleanliness gives them the confidence they need to keep coming back to you for what you do best – serve great food and drink!
Build your reputation with commercial cleaning services for your restaurant.
Contact our full-service commercial cleaning company today. We're more than just janitorial services! Where others limit your options, we expand them. That's the Go Clean Plus way!