How Snowy Weather Changes Your Commercial Cleaning Needs
Posted on November 16, 2023

The winter season brings about a beautiful snowy landscape, but it also introduces a set of challenges for those responsible for maintaining commercial properties. Let's explore how snowy weather affects the cleaning needs of commercial establishments. Pioneers of office cleaning services in Mississauga, Go Clean Plus, will take care of your property. Hiring a professional commercial cleaning company in Mississauga is the best thing you can do for your business.
Snow and Ice Management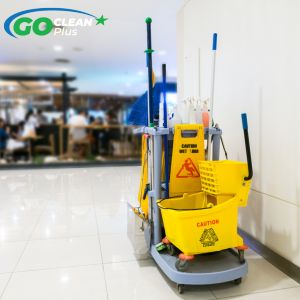 When it comes to snowy weather, one of the most immediate and visible challenges is the removal of snow and ice. Accumulated snow can create hazardous conditions around your commercial property, posing significant safety risks for employees, customers, and visitors. Effective snow and ice management is essential not only for safety but also for upholding the professional appearance of your business. Go Clean Plus is well-prepared with the appropriate equipment and personnel to ensure that parking lots, walkways, and entrances are consistently cleared of snow and ice. Investing in our professional commercial cleaning company in Mississauga is a smart move to prevent accidents and ensure accessibility to your premises during the winter.
Indoor Floor Care
As people enter your establishment through snow-covered areas, they inadvertently bring in salt, sand, and slush, which can cause damage to your indoor flooring. The continuous exposure to wet and salty footwear can lead to slippery, unsightly, and potentially unsafe conditions. This highlights the importance of adjusting floor maintenance practices during snowy weather. Increasing the frequency of floor cleaning, particularly in entrance areas, is essential. Employing mats and rug runners strategically can help capture moisture and debris, reducing the risk of slips and falls. Moreover, it's crucial to use appropriate cleaning products to safeguard and maintain the quality of your flooring.
Exterior Cleaning
The external appearance of your commercial property is a key factor in creating a positive initial impression. However, snowy weather can quickly turn the exterior of your building into a grimy and discoloured mess. Salt, sand, and de-icing chemicals can lead to staining and corrosion, negatively affecting the visual appeal of your property. Regular pressure washing can effectively remove salt and grime buildup from surfaces, preventing long-term damage. Additionally, keeping windows clean is vital to ensure that your property remains inviting, even during the dull winter months.
Increased Foot Traffic
Snowy weather often results in an uptick in foot traffic at commercial properties. Customers, employees, and visitors may flock to your business to seek refuge from the cold or take advantage of winter promotions. This surge in visitors can lead to a faster accumulation of dirt, moisture, and debris within your facility. Professionals in office cleaning services in Mississauga, Go Clean Plus, are prepared to handle the increased foot traffic by implementing more frequent cleaning schedules.
Invest in Professional Commercial Cleaning Services
Snowy weather presents unique challenges for commercial property owners and facility managers. Successfully addressing these challenges requires a proactive and adaptable approach to commercial cleaning services. Whether it's managing snow and ice, caring for indoor floors, conducting exterior cleaning, or accommodating increased foot traffic, Go Clean Plus can help you maintain a clean and safe environment for your customers and employees, all while leaving a positive impression, even in winter conditions.