How Office Cleaning Services In Toronto Affect Employee Moral
Posted on January 05, 2022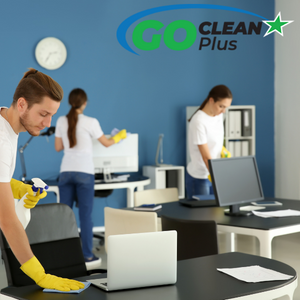 Employees like to work in clean, well-maintained environments. This is especially true when they work in an office environment where they spend many hours of the week. There is mounting evidence that suggests hiring office cleaning services in Toronto can be more productive. Studies show the poor condition of the office creates an unmotivated workforce, low morale, and ultimately lower productivity. Don't let this be your office! Contact a janitorial cleaning company in Toronto like Go Glean Plus about regular office building cleaning services.
A Study On Office Cleaning And Company Moral
In a study conducted by the American Office Products Association, it was found that employees are more productive and more efficient in offices where their employers provide professional cleaning services.
The study showed that 93% of respondents stated that they felt more productive on the job when the office they worked in was cleaner.
The study also revealed that 94% of respondents were much more likely to work harder if the office they worked in was cleaner.
Importance of Commercial Office Cleaning Services
Office cleaning services in Toronto not only help to improve the look of a business' interior, but it can also improve the health of employees who spend time in those spaces. According to this report from the World Health Organization, office workers are at a greater risk for contracting illnesses and conditions including the flu, the common cold and allergies, as well as other infections. These office-related infections can result in more employee days off. Employee morale can also be affected by unclean workspaces as studies suggest employees are more willing to stay with an employer who doesn't maintain a filthy office environment.
Benefits Of Office Cleaning Services
Here are just some of the benefits that you can expect from professional office cleaning services:
Reduced absenteeism—Employees who feel better about their environment are more likely to show up to work.
Improved Moral—Particularly if you have cleaners that spend time in your office on a daily basis for every shift, you will see an improvement in the overall attitude of your staff.
Increased Productivity—Cleaning and ensuring the well being of a workplace is vital to the productivity of individuals and groups. In many instances, the cleanliness of a workplace has been known to affect the mood of those who work there
Better Focus—Removing clutter from the office space will help employees concentrate better at work, as they won't be distracted.
Great First Impression—For businesses that are located in commercial buildings or office towers, having a professional cleaning company like Go Clean Plus keep up the cleaning is an excellent way to ensure that your tenant spaces look their best.
Decreased Costs—Professional cleaning services can also help you reduce costs associated with sick days and employee turnover.
Why Choose Go Clean Plus
Many businesses in Toronto have a commercial cleaning staff, but the truth is that not all of them are qualified enough to do a thorough cleaning.
At Go Clean Plus we only hire the best cleaners in Toronto. Our janitorial cleaning company doesn't just hire anyone – they have very high standards when it comes to hiring cleaners and that is probably why they are always able to perform better than other cleaning companies.
Book Your Janitorial Services In Toronto!
Go Clean Plus can provide all the services that your need to keep your office clean and tidy, whether you require a simple janitorial service or a more extensive building maintenance plan. We can work with you to devise a cleaning plan to ensure your workplace isn't just clean and safe, but also comfortable and productive. Hiring a cleaning service for an office shouldn't be confusing. Schedule a consultation easily by contacting us today for office cleaning services in Etobicoke, Toronto, Mississauga, and the GTA.