Benefits Of A professional Office Cleaning Company in Toronto
Posted on December 03, 2021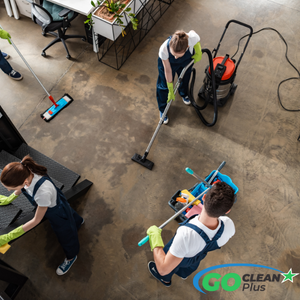 Professional office cleaning services in Toronto are essential for many reasons. If you own a business, you know that cleanliness is an essential component in improving your brand's image. That's why you should always consider hiring professional cleaning companies in Toronto to help you with your daily cleaning procedures.
Professional commercial cleaning services in Toronto can keep your business environment looking great and help your employees feel great about the place they work.
Benefits of Hiring A Professional Office Cleaning Company in Toronto
It allows business owners to invest more of their time in growing their businesses.
Keeping your workplace clean is an essential part of conducting business successfully. It allows you to give your customers or clients a professional impression, making them feel more comfortable in your premises.
A tidy workplace also reduces accidents in the office by providing a safer working environment.
More Benefits
In addition to the obvious benefits of a professional commercial cleaning service in Toronto, there are a number of other reasons why a business would choose a professional janitorial contractor to take care of their needs.
Here's a list of just a few:
Knowledgable Cleaners Who Are Trained.
You'll have expert cleaners trained and have experience working with all office equipment and office electronics. This means you won't have to worry about breakages or any damage being done. Expert cleaners can also provide services for specific equipment. Are you worried about your expensive equipment being damaged by improper cleaning? Hiring a professional company and their expert cleaners can handle all of your cleaning needs, and they will use specialized equipment and sprayers to make certain no damage will occur.
Better coverage and Scheduling.
Another reason you should consider using a professional janitorial contractor is scheduling and coverage issues. Big and small tasks can be done better and faster if you entrust them to experts. It's not only about the amount of time you'll save but also about your health and well-being.
More Time To Focus on the Business.
Running a business means having your eye on the ball at all times. Running a successful business means that you need to be awake, alert and ready to take advantage of opportunities. Managing a cleaning staff, however, requires a lot of time, attention and patience. When you outsource your commercial cleaning needs to an expert, you free yourself up to focus on other areas of your business.
Reduce employee turnover.
Running a business is tough work. You have demanding customers, hefting deadlines, and hundreds of other moving parts that have to mesh together in perfect harmony. Unfortunately, this means that employee turnover can be overwhelming and unmanageable over time. When you outsource your commercial cleaning needs to an expert, however, you can help reduce employee turnover and give yourself a stable workforce trained in the best practices.
Choose Go Clean Plus
With nearly two decades in the industry, Go Clean Plus has the cleaning services experience needed to meet the challenges of any facility or environment. Entrusting our team with your cleaning needs guarantees you excellent service every time. We're committed to effectively managing your cleaning program at all times, giving you time to focus on other priorities. Contact us today to learn more about our commercial cleaning services in Etobicoke and surrounding or reach out about our janitorial services offered in Toronto and surrounding areas.