5 Methods Used by Commercial Cleaning Companies
Posted on March 22, 2021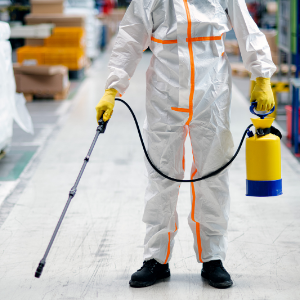 First impressions matter. And when you know that your workspace is the first thing your clients notice, you need to keep it spotless. More so in these pandemic times when cleanliness and safety of your clients and employees are a priority. Hiring Commercial cleaning services can make all the difference as they go beyond routine cleaning regimens to properly sanitize and disinfect your premises. Cleaning professionals employ different methods, including electrostatic cleaning & electrostatic disinfection, for a safe and pathogen-free work environment. Read on for a low-down on 5 cleaning methods used by commercial cleaning companies in Toronto:
#1 Electrostatic Disinfection
This state-of-the-art disinfection technique is especially effective in combating the threat of the Coronavirus. With businesses and offices requiring deep cleaning & disinfection services in the wake of the COVID19 pandemic, electrostatic disinfection is an ideal solution. This avant-garde cleaning technique uses an Electrostatic Disinfection System where liquid disinfecting solutions are converted into an aerosol mist. This mist is charged electrostatically so that it 'sticks to the surfaces it is sprayed on. As the disinfectant spray particles carry a positive charge, they effectively coat and protect the sprayed area. This electrostatic disinfection technique employed by professional cleaning companies like Go Clean Plus has been approved by Health Canada. Electrostatic Deep Cleaning is especially suitable for offices & businesses as it dramatically reduces disinfection time while providing 360-degree cleaning. Apart from lesser work disruptions and employee downtime, it gives you the reassurance of a safe & hygienic workspace during these uncertain COVID times.
#2 RotoWash
This cleaning method is useful for cleaning carpets and escalators. As the name suggests, it has rotating brushes with an in-built vacuum process to effectively suck the dust, dirt and grime. Added cleaning solutions ensure a deep and thorough clean.
#3 Steam Cleaning
This traditional but super effective method uses steam to dislodge dirt and oil from surfaces. The resulting dirty residue is then sucked out by a vacuum cleaner. The steam also fluffs up the carpet fibres so that the carpet feels softer and looks fresher! Steam cleaning is also a green cleaning option as it does not use any toxic chemicals.
#4 Germicidal Disinfecting Wipes
Germicidal disinfecting wipes can be used on multiple surfaces and can kill 95-98% of germs. They can be used in high traffic areas like restrooms and hotspots like electronic items and phones. Door knobs, keyboards and mobiles should be given a good wipedown with disinfectant wipes to eliminate pathogens.
#5 Deep Extraction
This method is used for deep cleaning carpets and fabrics. The extractor uses a 'wand' like device to spray cleansing solutions and conditioner deep down the fabric/carpet surface. The extractor wand then vacuums out the embedded dirt, water and cleaning solution. This also allows the cleaned surface to dry quickly as compared to other deep cleaning methods.
Go Beyond Clean with Go Clean Plus!
Proudly serving the entire Greater Toronto Area for the last 20 years, Go Clean Plus is a professional commercial cleaning company In Mississauga, Etobicoke, Toronto and GTA offering world-class cleaning solutions. Our trained & certified cleaning teams ensure 100% customer satisfaction with customized cleaning programs to suit every company and budget! With Health Canada approval, our electrostatic disinfection protocol lets you be confident about your staff & customers' safety! Call us at 647-344-0144 for a free service quote or email info@gocleanplus.ca to know more about our COVID compliant electrostatic disinfection programs.