Why You Need a Professional Cleaning Service for COVID-19
Posted on January 22, 2021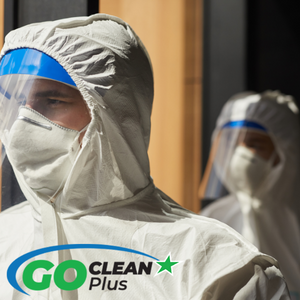 The ongoing pandemic has disrupted our lives in many ways. Both residential and commercial buildings are realizing the importance of consistent, deep cleaning to protect the health and safety of their staff, clients, and residents. Professional office cleaning services can provide you and your staff with peace of mind knowing that your workplace is truly safe. A professional cleaning team has access to industrial chemicals and deep cleaning techniques to help your office stay safe and sanitized without disrupting the work of your employees. In this blog post, we have outlined all the reasons you need a professional commercial cleaning service during the COVID-19 pandemic.
Deep Cleaning Protocols
Some business owners think that they can handle the cleaning and sanitation of their office space. However, professional cleaning services have access to powerful, industrial chemicals and supplies that provide a thorough and deep clean of all surfaces, handles, floors, and contact areas in your office. Specifically, electrostatic cleaning is a form of disinfection approved by Health Canada and normally used in healthcare facilities and nursing homes. This provides high-quality, long-lasting disinfection of all surfaces thanks to the electrostatic cleaning system and expert technicians. At Go Clean Plus, we offer electrostatic cleaning in addition to other deep cleaning services to all our clients.
Experienced Cleaners
Professional commercial cleaning services in Toronto use comprehensive cleaning protocols and experienced staff to provide exceptional sanitation and disinfection to you and your staff. At Go Clean Plus, our experienced team of professional cleaners bring all the equipment and industrial chemicals they need to provide thorough sanitation for your workspace. We offer a satisfaction guarantee, and all our employees provide the highest standards in cleaning services.
Safety and Security
Professional cleaning services are trained in sanitation and disinfection of all surfaces. Many workspaces try to rely on a rotating cleaning service amongst employees. But, your staff were hired to work, not clean their space. With the help of professional cleaning services, your staff can focus on their work while feeling safe and secure knowing their space has been professionally disinfected. The Go Clean Plus team can also work in off-hours to ensure that your surfaces, floors, and contact zones can be disinfected without disrupting your staff.
At Go Clean Plus, our expert team of professional cleaners provide deep cleaning and electrostatic cleaning services to both commercial and residential spaces in the Greater Toronto Area. The Go Clean Plus team offers daily, weekly, and monthly cleaning packages to help you and your business keep up with rigorous disinfection protocols during the ongoing COVID-19 pandemic. We provide exceptional service to both large and small facilities in the Toronto, Etobicoke, Mississauga, and North York regions. With over 20 years of experience and a satisfaction guarantee, you can trust the Go Clean Plus team with the health and safety of your workspace during the ongoing pandemic. For more information or to book a professional cleaning service, contact the Go Clean Plus team today at 647-344-0144.