Why the Summer is a Perfect Time for Commercial Deep Cleaning
Posted on May 24, 2023

The summer sun brings warmer days and breathes new life, bringing a sense of freshness and renewal. It's also the perfect time to take advantage of the sunny weather and invest in commercial deep cleaning services for your business. A professional office cleaning company has trained professionals that go beyond the surface for a truly deep clean. Partner with a trusted commercial cleaning service like Go Clean Plus to set up an office transformation for a refreshed, sanitized, and sparkling office! Read up to discover why Summer is the ultimate season for professional deep cleaning.
Optimal Weather for a Deep Clean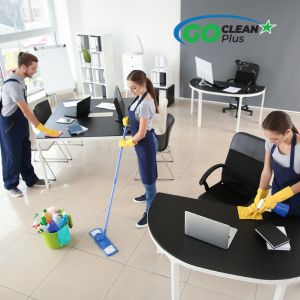 The favourable weather conditions make the Summer season an excellent time for commercial deep cleaning. With warmer temperatures and longer daylight hours, office cleaning companies can easily deep clean and air out the entire workspace. Rain and snow can make opening windows or accessing certain areas difficult. The summer season allows for natural ventilation with open windows and fresh air circulation. The absence of moisture and rain facilitates thorough cleaning and faster drying of surfaces, carpets, upholstery, and other fabric-based elements. Longer daylight hours allow commercial cleaning services to complete their work in lesser time and with better efficiency.
Reduced Disruption & Flexible Scheduling
Summer is often quieter for many offices and businesses, with fewer disruptions and reduced foot traffic. The hot season typically has lesser employees in the office due to family vacations and increased travel. Take advantage of the summer dip by scheduling a commercial deep cleaning session for a cleaner and sanitized workspace. Deep cleaning during this time will ensure minimal disruption in business work, and the cleaning professionals can do a thorough job. An organized and clutter-free work environment positively influences employee efficiency, focus, and morale. Happier employees and a pleasant work atmosphere translate to greater employee satisfaction and better productivity.
Enhanced Health and Safety
Maintaining a healthy and safe work environment is crucial for the well-being of your employees and clients. The Summer months provide an opportune time to conduct deep cleaning and eliminate accumulated dust, allergens, bacteria, and other pathogens. With more staff away for the summer, a thorough deep clean can be undertaken to effectively disinfect high-traffic and frequently touched surfaces. Doorknobs, light switches, shared equipment, and shared spaces can all be deep cleaned to reduce germ transmission risk for a healthier workplace. Commercial deep cleaning during the scorching season is wise and demonstrates your company's commitment to health and safety.
Ideal Time for Exterior Deep Cleaning
Summer is the ultimate time for outdoor exterior cleaning projects due to its optimum weather and longer daylight hours. Extend the deep clean to the outdoors, including drain cleaning, exterior window & glass cleaning, roofing, and other exterior building maintenance. A seemingly minor problem of a blocked drain can trigger flooding, water damage, costly repairs, and temporary business closure. Safeguard your office and business by incorporating professional exterior cleaning by a competent office cleaning company during the Summer months.
Go Clean Plus: Your Trusted Commercial Cleaning Service in Toronto
Experience the magic of commercial deep cleaning from Go Clean Plus this Summer! Revive and rejuvenate your business space with a deep clean and set the stage for success! Go Clean Plus is the leading commercial cleaning service in Toronto, and our professionally certified cleaning crew will ensure you walk into a revitalized office space. Invest in comprehensive cleaning this summer to reap the rewards of a productive and pristine office throughout the year.