Why Office Floor Cleaning Matters
Posted on November 27, 2022

No one can deny the sanctity and importance of a healthy and clean office environment. Clean and well-maintained office floors reflect your company's commitment to cleanliness, professionalism, and attention to detail. Office floor cleaning is non-negotiable–the constant foot traffic tracks in considerable dirt, dust, and invisible allergens. This can affect the health, hygiene, and aesthetics of your facility. Investing in janitorial services from a professional office cleaning service in Toronto can keep your floors and office sparkling!

Read on to know why Office floor cleaning matters.
Safety First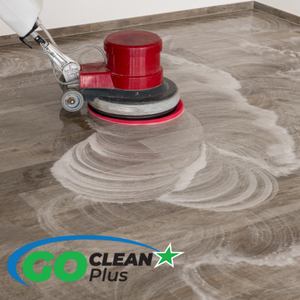 While floor aesthetics are critical for your office ambiance, workplace safety always comes first. Do you know that slippery floors and cracked surfaces are among the leading causes of workplace injuries? Litter, spills, and other obstructions can be significant tripping hazards. Stray wires, broken glass, and even sugar spills can cause nasty slips and trips. Entrusting floor care to competent janitorial services can reduce risks and limit your liability. Hiring office cleaning services in Toronto will help keep your floors spotless and dry. Professional cleaners can also identify potential problems with your flooring and take preventive action to address them.
Maintain Aesthetics
While safety is a priority, maintaining aesthetics is also essential for your company image. Floors are the first thing your staff and visitors notice when they step into your office. Clean and gleaming floors are warm and inviting. A neat and tidy workplace gives a professional impression, which is critical for a successful business. Removing dirt, dust, grit and everyday grime from the floors is vital for maintaining overall hygiene and appearance. Sand and grit tracked with footwear can also be abrasive to the floors. They can scratch the floor surface and ruin floor polish, carpets, or protective coatings.
Remove Allergens
Unkempt and dirty floors are not just unappealing—they are utterly unhygienic. Unfortunately, dirt, dust and other contaminants don't remain on the floor. Foot traffic, HVAC systems, and wind can propel them into the air and employees, visitors, and customers can inhale them. Allergens present in dust and air can trigger allergies and cause illnesses. Regular floor cleaning by qualified janitorial services is a must for a dust & allergen-free work environment.
Maintain Flooring
Office cleaning services in Toronto can also help to maintain your floors as they bear the brunt of daily wear and tear. Different kinds of floors also require extra protection for their maintenance. Wooden floors can retain their shine with a wax coating, while tiled floors may need a sealant. Carpeted floors need even more care and attention, which is best left to cleaning professionals.
Keep Your Floors in Top Shape with Go Clean Plus
Clean, dust-free floors make for a healthy and inviting office environment. Keeping your premises clean and tidy isn't difficult when you choose the right office cleaning service in Toronto. Partner with Go Clean Plus for consistently clean offices and pristine floors.
Our expert cleaning crew is dedicated to providing superlative customer service and unparalleled cleaning standards at competitive, cost-effective prices! From janitorial services and commercial office & industrial cleaning to electrostatic deep cleaning and water damage repair, Go Clean Plus has you covered! Connect with us to see how we can make your office and floors sparkle every day!