Why Office Cleaning Services for Bathrooms are Essential
Posted on October 20, 2022

Clean and fresh restrooms are a must-have for a successful business or company. Dirty bathrooms are highly unprofessional and a turn-off for clients and staff. Professional janitorial cleaning services for bathrooms are crucial for maintaining a clean and healthy environment for your customers and workforce. Common restrooms can quickly get dirty (and smelly!). Hiring an office cleaning company can ensure that your office bathrooms are clean and sanitized at all times, preventing the spread of germs and pathogens. Employees are not only appreciative of clean restrooms, but they are less likely to become sick and take days off—a win-win for the employee and employer. At Go Clean Plus, we offer exceptional janitorial cleaning services to keep your office washrooms immaculate. Here's why professional cleaning for your office bathrooms is a must.
Safety and Hygiene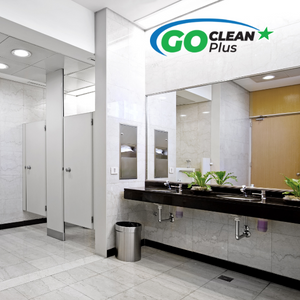 Restrooms are a hotbed for bacteria and germs. Research indicates that disease-causing pathogens like E.coli, fecal bacteria, viruses, and hepatitis flourish in toilets and other high-traffic areas. Without daily cleaning, things can get out of hand. More so if you have a large staff or visiting clients and customers. Commercial office cleaning companies have trained staff that can effectively clean and sanitize/disinfect washrooms and high-touch surfaces like doorknobs, faucets, dispensers, and air dryers. This can effectively eliminate bacteria and other germs for a safer office environment.
Enhance Professional Reputation
A clean and tidy washroom manned by professional cleaning staff indicates that you care about the safety and health of your staff & clients. Many businesses have regular clients and customers with toilets for customer use. Dirty and unhygienic restrooms can negatively impact a company's image. Janitorial cleaning service professionals are trained to keep your office and bathrooms spotless. The same is difficult to achieve with an in-house team. A consistent cleaning schedule and trained cleaning crew will make your office restrooms look and feel professional.
Improve Staff Productivity
A clean and organized workspace boosts employee morale and helps to remain focused. Hiring a commercial office cleaning company will reduce allergens and the possible spread of illnesses like flu, colds etc. Clean and welcoming workspaces, including the restrooms, can make employees feel secure and comfortable. They will be less anxious about cross-contamination in the office, especially in the backdrop of the Covid pandemic.
Maintain Industry Guidelines & Standards
Most offices and businesses need to follow specific standards and guidelines for safety and cleanliness in the workplace. Sanitary restroom facilities with no visible mess, adequate stock of paper products and other essential supplies must be available for employees. Hiring reputed janitorial cleaning services will ensure that all such regulations are complied with.
Go Clean Plus: Comprehensive Office Cleaning Solutions
A competent office cleaning company will ensure that every inch of your facility is hygienic & safe. A professionally cleaned office will also make employees and customers feel valued, satisfied, and happy. Reach out to the team at Go Clean Plus for expert cleaning services in the Greater Toronto Area. Our certified cleaning crew is trained for all industries we serve—using cutting-edge tools and technologies to provide comprehensive cleaning. Contact the pros at Go Clean Plus to keep your office and restrooms sanitary and germ-free. We're committed to creating healthier and safer workplaces for you!