Why Manage Cross-Contamination with Office Cleaning in Toronto
Posted on September 28, 2023

Cross-Contamination occurs when harmful micro-organisms move from one person or surface to another and in turn has the potential to transfer bacteria and viruses from one person to the next. Office cleaning in Toronto is vital for various reasons, particularly in light of ongoing concerns surrounding infectious diseases such as COVID-19. That's where top janitorial services Go Clean Plus steps in. With 20 years experience in the industry they are trusted in keeping your commercial space safe and clean.
Halting Disease Spread
Perhaps the most obvious reason is stopping the spread of disease and infection. Cross-contamination in an office setting can occur through shared equipment, surfaces, or interpersonal contact. Effective office cleaning significantly reduces the risk of transmitting illnesses, including the flu, colds, or severe infectious diseases.
Employee Well-Being and Efficiency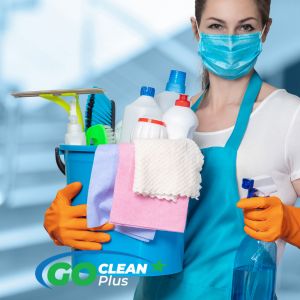 A clean and hygienic office environment contributes to employees' overall health and well-being. Healthy employees are less likely to get sick and take sick leave, which improves overall productivity of the firm and minimizes workplace disruptions. It removes potential health hazards from the work environment. Employees who feel safe and cared for in their workplace tend to exhibit higher job satisfaction and morale. A well-organized and uncluttered workspace positively impacts mental well-being. Disorderliness and untidiness can induce stress and anxiety, while a clean and orderly setting promotes feelings of serenity and control. This contributes to lower stress levels and improved mental health among employees.Demonstrating that the employer takes measures to minimize health risks can enhance employee contentment.
Compliance with Regulations
Numerous regions have stringent regulations and guidelines concerning workplace cleanliness and sanitation, especially during infectious disease outbreaks. Commercial cleaning in Toronto at Go Clean Plus is designed and planned to adhere to these regulations to ensure employee safety and mitigate potential legal repercussions. This reduces any liability. Neglecting cross-contamination management and office cleanliness could subject the company to liability if employees or visitors fall ill due to unsanitary conditions. Proper office cleaning helps reduce these risks.
Long-Term Cost Savings:
Investing in regular, effective office cleaning can lead to cost savings in the long run. This includes reduced employee absenteeism, lower healthcare expenses, and potential savings on legal fees. It can also extend the lifespan of office equipment and furnishings by preventing damage due to neglect or subpar cleaning practices.
It is important to adapt to changing situations. As demonstrated during the COVID-19 pandemic, infectious disease outbreaks can disrupt workplaces. Having established cleaning protocols that address cross-contamination makes it easier to adapt to ever-evolving circumstances and health crises.
Eliminate Cross-Contamination with Commercial Cleaning Services
Using professional janitorial services like Go Clean Plus to maintain a clean and safe office environment enhances the company's reputation in the eyes of clients, customers, and partners. It signals professionalism, attention to detail, and a commitment to health and safety.
We at Go Clean Plus have established well-defined cleaning procedures, utilize appropriate cleaning products, provide training to cleaning personnel, and regularly evaluate and update cleaning practices in accordance with the latest health guidelines and best practices.