Why Keep School Offices Clean with Janitorial Services
Posted on November 15, 2023

Ensuring a clean and hygienic environment within a school office is of paramount importance for multiple reasons, including the well-being of students and staff, encouraging a positive atmosphere, and increasing overall productivity. The critical role played by janitorial services in Toronto is upholding cleanliness and organization within school offices, and cannot be underestimated. Discover the importance of maintaining a clean school office with the assistance of a commercial cleaning company in Toronto and the advantages it offers to educational institutions.
Promoting Health and Safety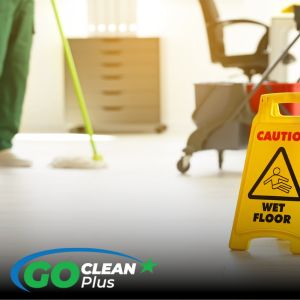 The cleanliness of a school office significantly contributes to the overall health and safety of all individuals within the premises. Go Clean Plus is equipped with the necessary expertise to eliminate common sources of germs and contaminants, thereby reducing the risk of illnesses spreading. With a well-established cleaning schedule, janitors diligently disinfect frequently touched surfaces like doorknobs, light switches, and shared equipment, minimizing the potential for infections and encouraging a healthier environment. Additionally, maintaining a tidy and well-organized office space helps prevent accidents and injuries by ensuring unobstructed walkways.
Improving Productivity and Concentration
The cleanliness of a school office directly impacts the productivity and concentration levels of its staff. A well-organized and clutter-free workspace allows employees to focus on tasks without disruptions. Janitorial services in Toronto not only maintain cleanliness but also assist in keeping supplies and materials well-arranged. A neat and orderly office environment cultivates a sense of pride and professionalism among staff members, motivating them to work more efficiently and productively.
Creating Positive Initial Impressions
First impressions carry significant weight, especially when parents, students, and visitors frequently interact with administrative staff. A clean and well-maintained school office establishes a positive image of the institution. Professional commercial cleaning services in Toronto like Go Clean Plus are crucial in preserving this image by ensuring that entrance areas, reception, and waiting rooms remain impeccably clean. Cleanliness communicates professionalism, care, and meticulous attention to detail, making visitors feel welcome and instilling confidence in the school's commitment to providing a high-quality education.
Prolonging the Lifespan of Equipment
School offices are often equipped with valuable machinery and technology, such as computers, copiers, and printers. Thorough cleaning and maintenance can substantially extend the lifespan of these assets. Accumulation of dust and debris can lead to malfunctions, overheating, and diminished performance of electronic devices and other equipment. Go Clean Plus possesses the knowledge and tools required to clean and maintain these devices, resulting in long-term cost savings for the school and the assurance that essential equipment remains in optimal working condition.
Work With the Best
The significance of maintaining a clean school office with the assistance of professional janitorial services cannot be underestimated. It has a direct impact on the health and safety of the school community, enhances staff productivity and concentration, creates favorable first impressions for visitors, and prolongs the lifespan of valuable equipment. When educational institutions invest in Go Clean Plus, they invest in the welfare of their staff and students, as well as in the overall reputation and functionality of the institution. Cleanliness should not be regarded as an expense but rather as a fundamental aspect of fostering a professional, beneficial, and inviting environment for all individuals involved in education.