Why Keep Dust Out of Your Office with Commercial Cleaning
Posted on February 08, 2023

Dust is a silent yet hazardous culprit that can disrupt your work environment and wreak havoc on employee health. While it may not be noticeable initially, dust can accumulate quickly to cause a host of issues. From triggering allergies to respiratory problems, the dangers of dust in the workspace are well-documented. Dust build-up is actually a sign of insufficient office cleaning in Toronto. Escape the hazards of dust with commercial cleaning services from Go Clean Plus to establish a healthier and happier workplace.

Read on to explore why keeping your office dust-free is crucial for a healthy workspace.
Reduce Allergens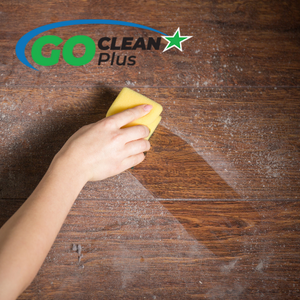 Dust contains a dangerous mix of allergens––pollen, mould spores, pet dander, microorganisms, dirt, and dead skin that settles on surfaces. Accumulated dust can trigger allergies to cause symptoms like sneezing, runny nose, headaches, and itchy eyes. It can even lead to asthma, bronchitis, and other respiratory diseases in those with pre-existing allergies. Dust can negatively impact staff regularity, productivity, and morale. Regular office cleaning in Toronto by professional commercial cleaning services can help keep dust and work-related allergies at bay.
Respiratory Issues
Dust in the workspace can cause significant respiratory issues. Dust particles can enter the lungs to cause irritation and inflammation. Coughing, shortness of breath, and wheezing are common in dusty environments. Prolonged exposure to dust and allergens can even lead to permanent respiratory damage. Employees spend most of their day at work—office managers must maintain indoor air quality and ensure a dust-free work environment.
Eye & Skin Irritation
Eye and skin irritations abound in dusty environments. Dust particles can cause itchy, red, dry eyes and skin rashes. A dust-filled work environment can be incredibly uncomfortable, decreasing morale, fatigue, and productivity.
Lower Indoor Air Quality
Accumulated dust can clog your office Heating, Ventilation & Air Conditioning (HVAC) systems and reduce their efficiency. This decreases HVAC airflow, lowers indoor air quality, and raises energy costs. There's also an increased risk of mould growth.
Maintaining a Dust-Free Space with Office Cleaning Toronto
So, how can one keep dust out of the office and maintain a healthy working environment?
The key to a dust-free work environment is regular office cleaning in Toronto to target areas prone to dust build-up. This should include routinely dusting surfaces like shelves, desks, and electronics.
Vacuum carpets & upholstery to remove trapped dust particles.
Use indoor air purifiers to tackle allergens in the air.
Place doormats at entrances to trap outdoor dust and dirt.
Avoid using feather dusters as they only disperse dust. Use a damp microfiber cloth to dust surfaces.
Use natural air purifiers and fresheners instead of artificial or heavily scented ones.
Routinely clean HVAC filters to prevent dust accumulation in the ducts.
Partner with a commercial cleaning service like Go Clean Plus. Professional cleaning companies have the training, cutting-edge equipment, and advanced cleaning techniques to keep your office dust & allergen-free.
Breathe Easy: Dust-Free Offices with Go Clean Plus
Dust and poor indoor air quality can impact your staff's health and productivity. Take proactive action and upgrade to superior commercial cleaning services from Go Clean Plus. Banish dust for good and experience a cleaner, healthier, and more efficient office environment! Our cleaning specialists will create a customized cleaning plan for your unique organizational needs. Don't settle for dust or a mediocre clean––elevate your office cleaning standards with Go Clean Plus!