Why Embrace Office Spring Cleaning this Year?
Posted on April 20, 2023

Spring cleaning is often considered an activity for the home, but the truth is after a long year and a harsh winter, businesses can benefit from spring office cleaning in Toronto. But with busy days and impending deadlines, it's difficult for organizations to take on deep commercial cleaning without the help of professional janitorial services in Toronto from Go Clean Plus. With the help of our trained and experienced commercial cleaners, you can revive your office ahead of summer.

Read on to learn why you should embrace commercial cleaning in Toronto this spring with Go Clean Plus.
Erase Winter Dirt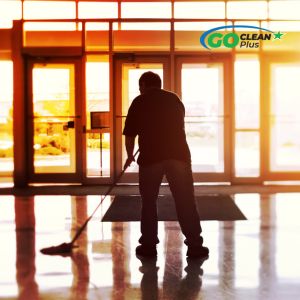 The chaos of the winter can generate quite a mess indoors over the span of the season. By the time spring rolls around, most indoor spaces with heavy traffic, like reception floors, office stairs, elevators, and washrooms, are in need of expert janitorial services in Toronto. In the Toronto area, salt is used heavily to counter snowfall and ice buildup. When road salt gets stuck in your shoes, it's brought inside in large quantities, leaving white stains on carpets, floor tiles, and stairways. With spring office cleaning in Toronto from Go Clean Plus, we can erase the signs of winter from your floors for a fresh office environment.
Pollen, Dust & Debris
During the spring, windows and doors are opened more often to let air into the office. While a fresh breeze is a great way to improve the indoor environment, it can let pollen and dust indoors. Because this time of year is allergy season, it's essential to stay on top of allergens in the air, like dust and pollen. Spring deep cleaning and regular office cleaning keeps levels of dust and pollen to a minimum, reducing your team's exposure to irritants in the air. From mopping and dusting to carpet and upholstery cleaning, Go Clean Plus can ensure your workplace is a healthy environment.
Flu & Virus Management
While flu season generally runs through fall and winter, spring is not exempt from viral workplace infections. With flu and colds still lingering during the spring, office janitorial services in Toronto will minimize the threat of office-wide outbreaks. Commercial cleaning in Toronto during the spring will help mitigate unplanned office absences by ensuring the illness does not spread as quickly. During deep spring cleaning, the Go Clean Plus team won't just focus janitorial services on high-traffic areas but can target all surfaces in your office.
Benefits of Spring Commercial Cleaning in Toronto
There are many benefits to commercial spring cleaning in Toronto. A deep clean with professional janitorial services in Toronto can reduce workplace stress, freeing up employee time while also increasing productivity and professionalism. At Go Clean Plus, we offer a range of janitorial services in the Greater Toronto Area, including floor and carpet cleaning, window cleaning, washroom and lunchroom cleaning, garbage removal, and other specialized cleaning services tailored to your facility. With years of experience, training, and expertise, you can trust Go Clean Plus for meticulous and comprehensive commercial cleaning in Toronto.