What's Included in Dental Office Cleaning Services
Posted on October 14, 2022

Dental patients wish to feel comfortable in the environment that they're in—safe and confident that all medical tools are wholly sanitized after each use. When your dental office looks dirty or unsanitary, it can give potential customers a negative impression. Maintaining a clean and sanitized dental clinic office is vital to keep clients safe from germs and cross-contamination. With Go Clean Plus professional office cleaning services in Etobicoke, you can rest assured that your clinic is cleaned to the highest standards. Cleaning services in Etobicoke include the following regimen for dental offices:
Disinfect High-Touch Areas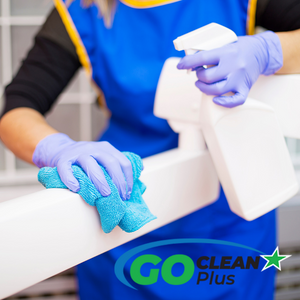 Cleaning and subsequent disinfection of high-touch areas and medical equipment are non-negotiable. Dental office cleaning services in Etobicoke demand attention to detail.
First, Go Clean Plus professionals will thoroughly clean and remove visible dirt & dust using microfiber mop pads and towels. Next, they will wipe down and disinfect the interiors, all surfaces, and dental tools with a medical-grade disinfectant. This will keep your clinic free from biological contaminants and prevent cross-contamination among patients, visitors, and dental-care workers.
Trained professionals will ensure that they disinfect each of the following frequently touched items:
Patient chair, including armrests & headrests.
X-ray equipment.
Instrument trays and autoclaves.
Door & cabinet knobs along with drawer handles.
Sinks & faucets.
They will also safely manage and dispose of biohazardous waste.
Clean & Organize the Reception Area
A clean and organized reception reassures clients about your professionalism and concern for health standards. The waiting area needs to be comfortable and clean with a welcoming ambiance. Professional dental cleaning services in Etobicoke will sweep & mop the floors, plus wipe and disinfect all surfaces using microfiber cloths and medical-grade disinfectants. They will also take care of sanitation and waste management. Our dental office cleaning professionals meet regulatory standards and deliver a spotless clean you can feel!
Maintain Restrooms
The cleanliness of your restrooms speaks volumes about your clinic's attitude toward hygiene and patient care. Hiring commercial cleaning services in Etobicoke will ensure the washrooms are spotlessly clean and sparkling. The restroom will be stocked with all essentials like soap, toilet paper, and paper towels. Bins will be cleared, and toilets will be thoroughly cleaned and sanitized.
Exterior Cleaning
A good cleaning service will look at the bigger picture and focus on cleaning the exterior of your dental office. Daily sweeping outside your building will ensure that your clinic looks clean and presentable for that vital first impression.
Align Disinfection Procedures With Industry Standards
Following prescribed industry standards will reduce the risk of potential infection and cross-contamination. Printing industry guidelines and displaying them around the clinic will promote good hygiene and remind everyone to adhere to them.
Professional Dental Office Cleanings in the GTA
Finding trustworthy and certified office cleaning services in Etobicoke is not easy. Thankfully, Go Clean Plus understands your unique disinfection and cleaning requirements. We pride ourselves on providing quality dental cleaning services with exceptional results. Our team of professionals has years of experience cleaning in the dental industry, including oral surgery centres and periodontal clinics. We'll chalk out a complete cleaning and infection control protocol customized for your facility.
Contact the experts at Go Clean Plus for superior dental office cleaning services today!