The Most Important Janitorial Services for Your Office
Posted on February 26, 2023

Whether you're located in Toronto or elsewhere in the GTA, the bustling cities is filled with businesses operating in high-rises and shared office spaces. Naturally, finding the right combination of janitorial services for office cleaning in Toronto can be challenging. In an ideal scenario, businesses should leverage all janitorial services in Toronto for their office, but that can't always be possible. However, some janitorial services in Toronto are non-negotiable and must be prioritized or scheduled more frequently than others. Ensuring that your office is up to par is easy with the Go Clean Plus team.

Here are some critical janitorial services to include in your office cleaning routine.
Bathroom Office Cleaning Services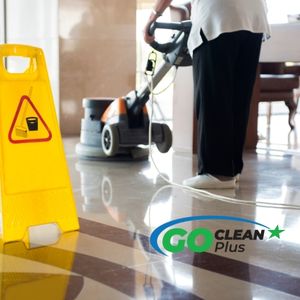 Bathrooms are probably the most frequently used areas in any workplace. Thorough cleaning and sanitization of restrooms and toilets are crucial to prevent the spread of pathogenic germs and bacteria. Go Clean Plus offers seamless janitorial services in Toronto for professional bathroom cleaning. This includes effectively cleaning and disinfecting toilets, mirrors, sinks, floors, and other restroom surfaces. They also ensure a well-stocked bathroom with adequate essentials like toilet paper, hand soap, sanitizer, and paper towels.
Lunchroom/Breakroom Janitorial Services
The lunch or break room is the common area where your staff takes a break, has lunch, and unwinds. As food and drinks are consumed in the lunchroom, the crumbs and leftovers can attract pests and cause hygiene issues. Commercial cleaning companies for office cleaning in Toronto will ensure that your breakroom is clean, safe, and hygienic. Their trained cleaning crew sanitizes and cleans countertops, furniture, microwaves, refrigerators, and other appliances. They also ensure the correct food waste disposal, wet-mop the floors, and restock supplies.
Disinfection & Sanitization
Sanitizing and disinfecting form the core of cleaning strategies for a well-protected workspace. Janitorial services in Toronto must include specialized disinfection and sanitization services to combat contagious germs and viruses. Professional service providers like Go Clean Plus utilize hospital-grade disinfectants and electrostatic sprayers for complete sanitization prescribed by Heath Canada. This includes disinfecting frequent touch surfaces like shared equipment, keyboards, phones, mouse pads, light switches, door handles, stair railings, and other similar surfaces.
Waste Management
Effective waste management is essential for a hygienic and germ-free workplace. Commercial janitorial services ensure timely and correct disposal of waste. The staff is trained to regularly empty recycling bins and trash cans. They ensure that all waste is segregated and disposed of per local regulations.
Other Services Offered By Go Clean Plus
In addition to the above-mentioned janitorial services, Go Clean Plus offers a complete range of specialized cleaning services that include:
Customized Deep Cleaning
Day Porter Services
Upholstery & Carpet Cleaning
Floor Maintenance & Refinishing
Window Cleaning
Pressure Washing
Post-Construction Cleanup
Specialty & Event Cleaning
They also provide custom cleaning solutions at affordable, budget-friendly prices based on your business requirements.
Clean & Safer Commercial Office Cleaning
Keep your workplace sparkling with Go Clean Plus, the leading janitorial service provider in Toronto and the GTA. Our team of certified cleaning professionals knows what it takes to ensure spotless premises. Our dirt-free guarantee, reliable cleaning protocols, and responsive services provide consistent cleaning quality for 100% client satisfaction. From daily office cleaning to specialized electrostatic cleaning, Go Clean Plus has you protected.
Put your office cleaning in Toronto on autopilot––Call us now for a safe and pristine workspace!