The Most Important Areas to Clean in Your Office
Posted on March 16, 2023

When it comes to office cleaning in Toronto, not all areas are created equal. Some areas require more attention and rigorous cleaning than others. Knowing which areas are most critical can help prioritize and streamline cleaning efforts. However, determining such sites can be overwhelming for the average person. As experienced providers of commercial janitorial cleaning and janitorial services in Toronro, Go Clean Plus can help identify the essential must-clean places in your office.

Dive in to learn more about the critical spaces you should focus your office cleaning on for a sparkling clean and healthy space!
High-Traffic, High-Touch Areas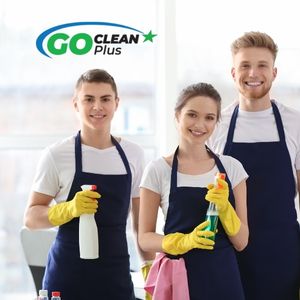 The COVID-19 pandemic has taught us to re-focus cleaning efforts on high-traffic and high-touch areas such as hallways, entrances, and exits. These areas are used by almost everyone in the office, which means they are a magnet for dirt and germs. The floors in such high-traffic areas are particularly prone to grime buildup that can make them slippery and unsafe. Commercial janitorial cleaning and janitorial services can play a crucial role in preventing the spread of illnesses with regular cleaning and disinfection of these places.
Restrooms
Restrooms are another crucial area that needs efficient janitorial services to maintain hygiene and cleanliness. Neglected restrooms can breed bacteria and other harmful pathogens that cause workplace illnesses. In addition to regular commercial cleaning, ensure that your restrooms have an adequate stock of soap, toilet paper, and other essentials. Additionally, restrooms reflect on the overall cleanliness of your office, and they can often make or break the impression of potential clients and visitors.
Breakrooms & Kitchens
The breakroom and kitchen areas are essential to the well-being of your employees. Employees love that mid-afternoon coffee break and the opportunity to socialize with colleagues. However, food crumbs, spillages, and stains can attract pests and germs. This can lead to diseases and a poor work environment, so keeping them safe and hygienic with the help of commercial janitorial cleaning is essential. Have the crew clean and sanitize them daily for germ-free break rooms and kitchens. Weekly cleaning of coffee-makers, microwaves, and water dispensers is a must.
Reception
The office reception is the first point of contact for your visitors and clients. A clean, organized, and welcoming reception is critical for your company's image and business success. An unkempt or dirty reception can leave a negative and unprofessional impression. Engage a competent janitorial service like Go Clean Plus for a spotless reception. Trained and certified cleaning staff will ensure that the reception desk, furniture, and surroundings are always clean and organized.
Boardrooms
The boardrooms are sacrosanct in an office where a company hosts client meetings and holds critical management, team, or staff discussions. Thus, it's a key area that needs to be kept organized and dirt-free. Dust can accumulate on furniture, whiteboards, and other office equipment, giving an unkempt and unprofessional look. Keep the boardroom maintained with commercial janitorial cleaning for a productive and conducive work environment.
Need Help with Critical Office Cleaning?
Choose a professional and trusted cleaning service provider like Go Clean Plus, a leading commercial cleaning company in Toronto, to help you maintain a spotless, hygienic workspace. Dirty, unkempt offices can negatively impact your business and productivity. Go Clean plus provides dedicated commercial janitorial cleaning and janitorial services to ensure that your critical office areas are thoroughly cleaned and maintained. Decades of experience, avant-garde cleaning technology, and certified cleaning professionals will provide the deepest clean you deserve!