The Best Post Construction Clean Up Company In Toronto
Posted on September 03, 2021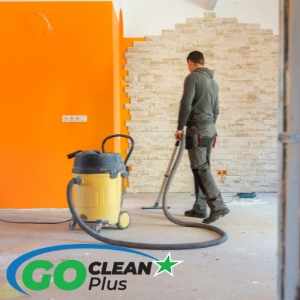 Go Clean Plus is a professional cleaning company located in Toronto. We offer post construction cleaning services for residential and commercial projects, including commercial building renovations, offices, schools, condo buildings and more.
A professional post-construction commercial cleaning service in Toronto is the finishing touch you need for any completed residential or commercial structure. Proper post-construction cleaning will remove the grime, dirt and dust that probably currently cover most surfaces. You need a cleaning company that will clean with the level of attention it truly deserves. Hire the right professional commercial cleaning company in Etobicoke, Mississauga, Toronto and the GTA to provide you with superior quality cleaning services, hire Go Clean Plus.
What Is Post Construction Cleaning
Post-construction cleaning is a type of cleaning used to clean up a site that has gone through a construction project. This post construction cleaning service may also include removing debris, rubbish and even hazardous material from the site. Post-construction cleaning can be an essential part of a successful construction job as it ensures that the site is cleaned correctly so it's ready for its next phase.
Post-construction cleaning is basically cleaning up the area after construction or repairs have been carried out. Post-construction cleaning also relates to removing hazardous materials, debris and other non-hazardous wastes leftover from any sort of public building repair or renovation work. There are various reasons why this kind of post-construction cleaning service is used.
Indicators Of A Good Cleaning Company In Toronto
When you're working with a cleaning company, you want to have an assurance that they are qualified to handle all of your needs.
They should have the skills and knowledge to ensure the job is done right the first time.

The cleaners should also have the right equipment necessary to ensure no harmful fumes and chemicals are used.
It's vital to hire a professional cleaning company for this type of job since you don't want to risk damage to walls, trim and other surfaces. Call us today to schedule an appointment, and we can give you a free estimate for post-construction cleaning services.
The Best Post Construction Cleaning Company
Go Clean Plus is the right choice when choosing the best post-construction cleanup company in Toronto. We are dedicated to providing guaranteed customer satisfaction with all of our services.
Our cleaning professionals are excellent at what they do. We are a team of friendly, knowledgeable, and courteous professionals.

We guarantee our work and guarantee our prices.

We guarantee that you will be satisfied with the outcome of each project that we undertake. We're honest, reliable, and hardworking.
With more than 10 years of experience in the construction cleanup business, it's safe to say that we know what we're doing. We have a reputation that we have earned that makes us the first choice for contractors who would want to have a perfectly cleaned site after a job is done.
Call About Our Post Construction Cleaning Services
Post-construction cleaning is a big part of the final stages for any recently constructed residential or commercial property. Properly completing a post-construction cleaning will leave your property looking fresh and clean. You want to ensure that all potential clients and/or tenants that come into your property notice the level of cleanliness. Learn more about or get a quote on our superior post construction clean up services in Toronto by getting in contact with us.