The Benefits of Janitorial Services for Car Dealerships
Posted on October 10, 2023

Not many people realize that a clean car dealership can play an important role in customer conversions, actually improving sales. Janitorial services in Toronto for dealerships offer many different benefits, as with most businesses that take care of their work environment with commercial cleaning services in Toronto. Investing in reliable janitorial services in Toronto for your dealership is of utmost importance. Go Clean Plus is an industry leader in commercial cleaning services in Toronto, which takes cleaning your car dealership seriously.

Here are some of the benefits of outsourcing janitorial services for your company.
Making a Strong First Impression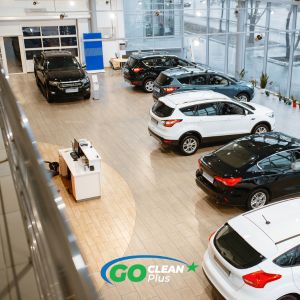 Maintaining a clean and well-kept appearance in your car dealership is crucial for leaving a positive first impression on potential customers. Janitorial services in Toronto ensure that your showroom, offices, and restrooms remain immaculate, thereby enhancing the overall visual appeal of your dealership. Regular cleaning of the vehicles on display helps retain their showroom-level shine, attracting potential customers and emphasizing the features and aesthetics of the cars, showcasing cars in their best light.
Customer Confidence
Commercial cleaning services in Toronto like Go Clean Plus create a good first impression and a professional atmosphere that allows your customers to trust what you do. A clean and organized dealership shows a dedication to excellence. It also instills a sense of comfort and ease in customers while they explore your dealership, ultimately enhancing their experience and making the decision to buy a car just that little bit easier.
Following Health and Safety Regulations
Janitorial services maintain cleanliness in communal areas, customer lounges, washrooms, and the show floor, promoting a healthy atmosphere for both employees and customers. Paying close attention to sanitation and hygiene. Upholding cleanliness and adhering to health and safety regulations helps you avoid potential penalties and legal complications.
Employee Morale and Efficiency
A clean and well-organized workspace allows your sales and service teams to concentrate on their primary roles, selling cars and delivering better customer service, without being distracted by clutter or untidiness. A clean work environment lifts employee morale and contributes to their well-being, resulting in higher job satisfaction and increased productivity.
Cost-Efficiency
Janitorial services can highlight maintenance needs early on, preventing costly repairs in the future. For instance, routine cleaning and maintenance can prolong damage to flooring or prevent the growth of mold. Outsourcing janitorial services in Toronto enables your dealership to direct resources and time toward core operations, sparing you the effort and expenses associated with recruiting, training, and managing in-house cleaning staff. It also saves you the expense of having to buy cleaning equipment and chemicals. It can actually be cheaper to outsource janitorial services rather than having in-house employees do the job of cleaning.
Go Clean Plus is a Trusted Janitorial Service
Go Clean Plus for car dealerships provides a range of advantages, including improved cleanliness, heightened customer satisfaction, compliance with health and safety regulations, increased employee productivity, and cost savings through proactive maintenance and efficient external service providers. With 20 years of experience, Go Clean Plus is a trusted janitorial service that will take your workplace to a new level. These benefits contribute to a positive dealership image and ultimately lead to boosted sales and customer loyalty.