The Benefits of Corporate Janitorial Services During the Holiday Season
Posted on October 19, 2023

With decorations, increased foot traffic, and celebratory events, workplaces can quickly become disordered and untidy, making office cleaning in Toronto more challenging for employees. Corporate janitorial services from experienced professionals at Go Clean Plus streamline workspace cleanup during the holiday, ensuring that the holiday season remains festive and productive for all. Explore the benefits of professional office cleaning in Toronto, allowing the preservation of a clean and hospitable workspace, the boost of employee spirits, the mitigation of illness transmission, and the assurance of safety.
Sustaining a Neat and Inviting Workspace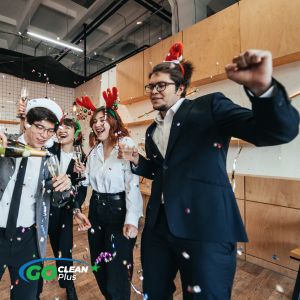 Among the advantages of professional janitorial services with Go Clean Plus is the capacity to preserve a clean and welcoming workspace. Proficient janitorial services are suitably equipped to handle the additional cleaning demands that the holiday season brings in. They can guarantee that communal areas, washrooms, and workstations remain well-organized and presentable, thereby giving a positive impression to clients, associates, and employees. Whether entertaining clients for year-end meetings or employees for holiday gatherings, a well-maintained workspace communicates professionalism.
Boosting Employee Morale
The holiday season is a time when employees eagerly anticipate festivities, celebrations, and, perhaps, a respite from their daily routines. A clean and orderly workplace contributes to a positive work milieu that bolsters employee morale. Employees are more inclined to feel valued and motivated when their workspace is well-kept, comfortable, and enticing. Office cleaning in Toronto can help transform the workplace into a cheerful and pleasing ambiance. A clean, well-maintained office fosters a constructive corporate culture, instills a sense of pride among employees, and cultivates team cohesion. It can even induce inspiration for creativity and efficiency during this festive interval.
Mitigating the Spread of Illness
The holiday season frequently coincides with the flu and cold season. With employees travelling, attending gatherings, and returning to the workplace, the risk of getting sick within the office surges. Corporate janitorial services minimize this risk by preserving a hygienic environment. Experienced janitors at Go Clean Plus possess the knowledge and equipment necessary to effectively cleanse and disinfect surfaces and high-contact areas. Regular cleaning and sanitation help keep germs at bay, thereby aiding in maintaining the health and productivity of employees during the holiday season and into the new year. A hygienic workspace can also reduce absenteeism, ensuring that your workforce remains at full capacity to meet year-end objectives.
Assuring Safety at Work
Safety should always be taken into account, but it becomes even more critical during the holiday season when workplaces are bedecked with decorations and potential dangers. Go Clean Plus can help secure safety by promptly addressing any safety issues that may arise. Our janitors can monitor and uphold safety in communal spaces, guaranteeing that pathways are clear of obstructions and that emergency exits remain unobstructed. Additionally, they can assist in the appropriate storage and disposal of holiday decorations, which reduces the risk of fire hazards and accidents. By taking these precautions, corporate janitorial services in Toronto contribute to a secure and stress-free holiday season in the workplace.
Keep Your Offices Clean with Janitorial Services
Professional janitorial services, Go Clean Plus, play a crucial role in promoting an enjoyable, secure, and productive holiday season in the workplace. They maintain a clean and inviting workspace, boost employee morale, mitigate the spread of illness, and assure safety, therefore contributing to a positive and festive atmosphere. As you prepare for the holiday season, contact Go Clean Plus and take advantage of professional janitorial services so your employees and clients can enjoy a clean and inviting workplace.