The Benefits of Contracting Out Your Commercial Cleaning
Posted on April 18, 2023

Every business owner knows the importance of a clean and organized workspace for success. Positive business image, employee health, morale, and productivity are all interlinked with a tidy and conducive work environment. However, managing cleaning responsibilities in-house can be time-consuming and expensive, taking valuable time away from running your business. Consequently, many companies are turning to commercial janitorial cleaning for their cleaning requirements.

Read on to explore the numerous benefits of contracting your office cleaning services in Toronto to a reputable service provider like Go Clean Plus.
Cost-Effective Office Cleaning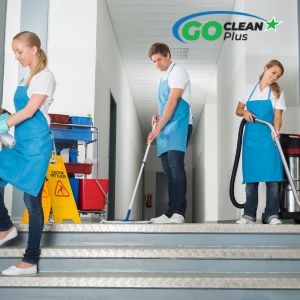 One significant advantage of outsourcing your commercial janitorial cleaning is cost-effectiveness. Hiring, training, and managing in-house cleaning staff can be expensive and time-consuming. Moreover, many businesses may only sometimes need cleaning services on a part-time basis. With a commercial cleaning service in Etobicoke, you only pay for the services you need and when you need them. This saves you a neat amount in the long run. Also, a premier cleaning service like Go Clean Plus will provide all the necessary cleaning equipment and supplies, so you also save on such additional expenses.
Wide Range of Expertise
Another plus of hiring commercial office cleaning services in Toronto is their wide range of expertise. Professional cleaning companies like Go Clean Plus have trained and experienced staff equipped to handle various cleaning tasks. From essential office cleaning to more specialized services like electrostatic deep cleaning, carpet & window cleaning, floor management, painting, and water damage cleaning services in Etobicoke will handle it all. You need to hire only one vendor for different types of cleaning, as one reliable service provider can handle everything. Contracting your cleaning needs will also ensure the work is done safely and professionally.
Save Time with Janitorial Services
Contracting out your commercial janitorial cleaning will also save critical employee time. Office cleaning is a time-consuming task. When you delegate cleaning responsibilities to your employees, they may need more expertise or equipment to do the job effectively. So, leave the cleaning to professional cleaning services in Etobicoke and focus on your bottom line and business! A commercial janitorial cleaning service will also work around, or according to your schedule, so there will be minimal disruption in your daily operations.
Improve Focus & Productivity
Another plus with professional cleaning services is employee focus and enhanced productivity. If your staff is burdened with cleaning tasks, they may become distracted and lose focus on their primary job responsibilities. Commercial cleaning services are trained to provide a deeper and more effective cleaning, so your team and clients can enjoy a welcoming and healthy space. A tidy and organized work environment has been shown to enhance employee morale and job satisfaction with improved employee retention and reduced absenteeism.
Makes a Positive Impression
Commercial cleaning leaves a positive impression on your clients and customers. An organized and clean workplace adds credibility and creates a professional image for your business. You can attract new clients and retain old ones, increasing revenues and ensuring business growth.
Get a Head Start on a Spotless Office with Commercial Cleaning Services
Contracting out your commercial janitorial cleaning to a professional service provider like Go Clean Plus offers a host of benefits. With trained and certified staff, customized cleaning schedules, and cost-effective pricing, Go Clean Plus is your go-to company for office cleaning services in Toronto. Streamline your cleaning and enjoy a shining, disinfected office space with Go Clean Plus.
Call us now for a free commercial janitorial cleaning quote!