Signs It's Time to Outsource Commercial Cleaning
Posted on November 24, 2022

As a business owner or manager, it's critical to make the best use of your resources—time, money and people. If your Key Performance Indicators or KPIs are falling along with high employee downtime, your work ethic may not be the only culprit. The cleanliness and hygiene standards of your commercial property may be equally responsible. A clean business facility isn't just to impress employees or guests–it's to keep everyone safe and foster a healthy work environment. Hiring a smart commercial cleaning company with professional janitorial services in Toronto can help keep those KPIs on track. Go Clean Plus provides businesses throughout the Greater Toronto Area with versatile cleaning services from industrial cleaning to office cleaning that make a difference around your commercial space.

Here are four warning signs it's time to outsource your workspace cleaning & organization.
Increased Employee Sick Days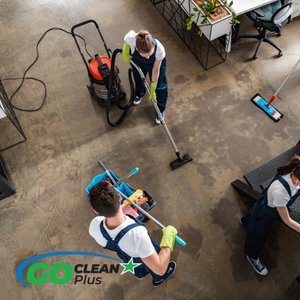 An unclean and unhygienic workplace increases the risk of infection, and your employees may often fall sick. If your in-house cleaning team needs to do a better job, it will reflect in cleanliness levels and employee health. Hiring experienced janitorial services in Toronto is an investment in the health and well-being of your employees, customers, and other stakeholders. A clean, germ-free office will prevent workplace infections and reduce employee downtime and sick days. A high number of employee sick leaves is a red flag and a warning sign that you should hire a reliable commercial cleaning company.
Visible Clutter & Dirt
A clean and organized workspace indicates professionalism and concern for health & hygiene. With everyone still struggling with the pandemic repercussions, health issues and workplace safety are on everyone's minds. You require commercial cleaning services if your work environment seems visibly unorganized or dirty. A clean and sanitary office shows that you value your staff, clients and guests.
Low Productivity & Lack of Focus
If your employees are struggling to remain focused and there is a decline in productivity, it may be time to reorganize and reschedule office cleaning. It's difficult to focus and stay productive in a cluttered and unorganized workplace. Also, lingering dust and pathogens can influence energy levels and affect employee productivity. A clean and organized work environment is critical for overall productivity and morale. Hiring professional janitorial services in Toronto will help you manage your commercial space more effectively.
A Decline in Customer Visits & Volume
If there's a decline in customer volume and an increase in negative reviews due to unsanitary conditions and cleanliness, urgent attention is needed towards cleanliness and sanitation. Keep a watch on complaints about hygiene and cleanliness standards. Complaints about unkempt surroundings, unhygienic restrooms, or lack of proper sanitization and overall cleanliness can negatively impact customer satisfaction and repeat business. Engaging a professional service provider for commercial cleaning and maintenance will aid in cleaner and healthier business spaces.
Comprehensive Commercial Cleaning with Go Clean Plus
A clean and sanitized commercial space is critical for a positive business image and for maintaining the health and productivity of your staff and clients. If you see any of the above warning signs in your office, it's time for professional janitorial services in Toronto. Outsourcing commercial cleaning is not only about saving time or money. It's an essential business strategy to ensure healthy, profitable, and productive workspaces. Engaging a trusted service provider like Go Clean Plus will ensure that you can focus on what really matters–running a successful business. Our expert cleaning crew is committed to delivering quality janitorial and disinfection solutions at the most cost-effective prices.