Property Types That Benefit from Janitorial Services
Posted on October 25, 2023

A clean and hygienic workspace is paramount for business success. However, all commercial properties aren't similar, and their cleaning needs can differ dramatically. This is where janitorial services can ensure regularly scheduled cleaning staff are available on-site to address vital cleaning needs. From office cleaning in Toronto to vast industrial warehouses, professional janitorial services are pivotal in keeping commercial properties in mint condition. As the market leader in commercial cleaning across Toronto, Go Clean Plus is committed to green cleaning solutions and exemplary customer service.

Here are some property types that can reap tremendous benefits from janitorial services.
Offices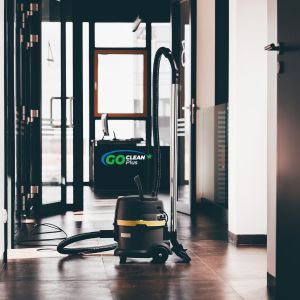 One property type that significantly benefits from janitorial services is offices. All commercial businesses have offices that require routine cleaning to maintain a pristine working environment. Janitorial services for office cleaning in Toronto ensure your workspace remains clean, orderly, and germ-free. Regular cleaning fosters a healthy and pleasant work atmosphere that enhances productivity. Spic n span offices also create a positive impact on clients and visitors and increase brand value.
Warehouses
While warehouses are not your typical workspace, they're commercial spaces requiring regular cleaning and maintenance. In fact, cleanliness is critical for warehouses where goods and products are stored. Professional janitorial services like Go Clean Plus offer specialized solutions to tackle the unique cleaning needs of warehouses. These include industrial floor scrubbing, sanitization, and cleaning protocols that protect goods from dust accumulation and potential cold/mildew growth. Irregular cleaning and disorganization can hamper daily workflow and increase the possibility of accidents. Keeping these vast spaces clean and organized is essential for safety, efficiency, and staff well-being.
Showrooms
For businesses that rely on presenting products in swanky showrooms, cleanliness is non-negotiable. Whether you deal with automobiles, home appliances, or any other product, an immaculate showroom is essential for attracting customers and maintaining your brand image. Professional janitorial services follow strict cleaning protocols with a dedicated cleaning crew to keep your premises fresh and dazzling.
Private Schools & Institutions
Private schools and institutions in Toronto can benefit immensely from regular janitorial services. Children and adolescents in educational institutions are usually more sensitive to dirt and allergens. Dirt, soil, food particles, allergens, and mud abound in private schools and institutions. Professional cleaning and janitorial services ensure that learning spaces like classrooms, meeting rooms, cafeterias, playgrounds, gyms, floors, toilets, and other areas are free from germs, allergens, and clutter. Regular cleaning, sanitization, and eco-friendly products create a healthy environment that fosters learning and well-being.
Hotels
The hospitality industry thrives on offering exceptional guest experiences. A clean and inviting ambiance is central to achieving this goal. From small boutique establishments to large luxury resorts, hotels can benefit from dedicated janitorial services to maintain their rooms, lobbies, and common areas in pristine condition. Restaurants within the premises require extra cleaning attention, given the grime, oil, food particles, spills, and accidents they encounter. Commercial janitorial services use high-tech equipment and trained staff for deep cleaning and sanitizing your property. Cleanliness adds that magical touch of luxury and comfort that guests expect and deserve.
Nursing Homes & Medical Facilities
Nursing homes and medical establishments are entrusted with caring for vulnerable individuals, which makes cleanliness and hygiene a top priority. These facilities deal with blood, human tissues, syringes, bandages, and other types of medical waste that need specialized cleaning and proper disposal. Mishandling can lead to cross-contamination and risk the health and well-being of patients and staff. Go Clean Plus provides trained janitorial staff for nursing and medical properties to ensure clean, safe, and contaminant-free premises.
Trust Go Clean Plus for Your Commercial Cleaning Needs
If you're worried about keeping your commercial space clean and safe, trust the experts at Go Clean Plus. With more than 20 years of commercial cleaning solutions, our happy clients and their sparkling offices testify to our quality work. Invest in Go Clean Plus janitorial services and let your commercial property shine & dazzle! Experience the Go Clean Plus Clean.