Post Construction Cleaning Checklist
Posted on July 18, 2022

Revamping your old space and giving it a stylish makeover can be an exciting project for homeowners. Unfortunately, home renovations or constructions can leave quite a mess behind—debris, sawdust, wood pieces, nails, screws, and dirt. Your workmen can be super tidy, but dirt and dust are inevitable. Construction is already a stressful situation, and the last thing you want is to clean up all the mess! Thankfully, hiring professionals for commercial cleaning in Etobicoke will take the work out of construction clean up. Whether you take on the job yourself or engage professionals, here's a complete checklist for post-construction cleaning in Etobicoke.
Remove Large Debris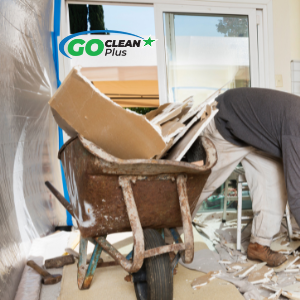 Kick-start cleaning by removing all large debris, leftover materials or tools from the site. Ensure that all materials are disposed of correctly or recycled as needed. This is called the 'rough clean,' where one removes all the large debris and materials without focusing on detailed cleaning.
Clean Ceilings, Fans, & Light Fixtures
The next step is to start detailed cleaning from the top—ceilings, fans, and fixtures. This ensures that as you clean, the dust and small debris from the top falls down on the ground. You can then clean it all together when cleaning the floors. You can dust and wipe the fans and light fixtures with a soft, dry cloth.
Clean Baseboards & Walls
Brick and construction dust are usually heavier than regular dust, making post-construction cleaning in Etobicoke a tricky affair. Construction dirt can stick to the walls and baseboards. First, use a microfiber cloth or a powerful vacuum cleaner (shop vac) to suck up the dry dust and debris. Then make a solution of warm water and dishwashing liquid to gently wipe off the residual dust. You should also extract dust from the HVAC filters and vents with the vacuum cleaner. Tackle stubborn spots and stains from paint, adhesive residue or caulking splashes with a household cleaner.
Clean Windows & Window Sills
Use a microfiber cloth or duster to dry dust the windowsills and windows. Or, use a powerful vacuum cleaner to suck away the dry dirt and cobwebs. Next, wipe down the glass surfaces with a window-cleaning solution or a mixture of warm water and white vinegar/dishwashing liquid. You can also wash the windows with warm water or use a good glass cleaner and wipe dry using a soft cloth or squeegee. Clean all the edges and corners of the windows thoroughly; otherwise, the windows could jam or cause problems while opening or closing.
Clean the Floors
Floors are the last item on your post-construction cleaning checklist in Etobicoke. Sweep or vacuum the floors and carpets, mop the hardwood floors, and clean the tile grout. Vacuum twice to thoroughly remove dust and other particles.
Trust the experts at Go Clean Plus for post-construction cleaning in Etobicoke. While it might be tempting to go the DIY route, it is not easy and might not save you money. Proper construction clean-up requires professional equipment like shop vacs and commercial cleaning solutions. Hiring professionals from Go Clean Plus for commercial cleaning in Toronto and Etobicoke can be more cost & time-effective. Go Clean Plus is the top cleaning company to contact if you need a mess cleaned up! With expert and trained professionals, we get the job done quickly & efficiently so you can bask in the comfort of your newly renovated space.
Contact us today for all commercial or post-construction cleaning in Etobicoke!