Overcome These Common Cleaning Challenges with Janitorial Services
Posted on March 22, 2023

Office cleaning and efficient organization remain top priorities for every business owner. A clean office offers a fresh space and a clear mind for innovative ideas and better productivity. However, office cleaning in Toronto can be challenging, especially when dealing with high-footfall areas and sensitive materials. Thankfully, commercial janitorial services in Toronto can help you create a welcoming environment for your visitors and staff while maintaining the highest standards of hygiene and cleanliness. Our blog highlights why partnering with trusted cleaning companies like Go Clean Plus can help you overcome office cleaning challenges.
Maximizing Time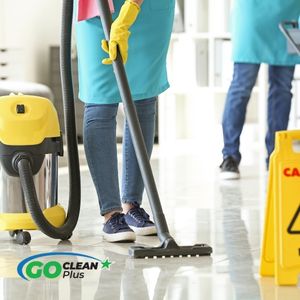 Lack of time to focus on cleaning tasks is one of the most significant challenges business owners face. Professional office cleaning in Toronto can take off the burden of additional cleaning tasks, freeing up your schedule to focus on business needs. Janitorial services in Toronto have trained staff with the requisite experience and resources to tackle daily cleaning and sanitization. They can also work according to your company schedule to ensure minimal disruption in your day-to-day operations.
Avoiding Cross-Contamination
Cross-contamination is another concern to tackle while cleaning office spaces. Even slight negligence–using the same mop to clean office areas and restrooms can spread harmful pathogens and bacteria throughout the workspace. This can lead to the spreading of illnesses and employee absences. A professional janitorial service like Go Clean Plus understands the importance of correct cleaning techniques to prevent office cross-contamination. The trained and certified cleaning specialists follow strict protocols and use the best green cleaning products to ensure your office space is clean and safe for everyone.
Handling Sensitive Materials & Workspaces
Confidentiality is paramount for industries that deal with sensitive materials and environments like healthcare or finance. One must ensure everything is cleaned thoroughly without compromising information security or delicate materials. Professional janitorial services are a boon in such scenarios, given their experience in handling sensitive materials and customized cleaning solutions. Commercial cleaning services also adhere to strict security and cleaning protocols to protect your information and property.
Expert Cleaning Solutions For High-Volume Areas
Heavy foot traffic in lobbies, hallways, and break rooms is often a cleaning nightmare! Since they are the places that visitors and employees see first, a positive impression is essential. A professional cleaning company in Toronto has the equipment and expertise to clean high-footfall areas effectively. Dedicated day porter or janitorial services will ensure tidy and welcoming receptions and common areas. They can also undertake regular deep cleaning and sanitization services to keep these areas looking their best.
Restrooms Deserve Special Attention
Finally, restroom cleanliness is non-negotiable in any office space. Without consistent cleaning, these spaces can quickly become an unsanitary hotbed for pathogens. Professional janitorial services can undertake regular cleaning and disinfecting services to ensure sparkling and sanitary restrooms. They can also restock and manage essential supplies of toilet paper, soap, disinfectant wipes etc.
Overcome Office Cleaning Challenges with Go Clean Plus
Say goodbye to common workspace cleaning challenges that disrupt productivity. Choose fresh, sanitized workspaces that inspire creativity and success with top-tier janitorial services from Go Clean Plus. Let the certified and experienced cleaning crew at Go Clean Plus tackle the mess so you can focus on your business. From cluttered desks to dusty hallways, you can trust Go Clean Plus for office cleaning in Toronto.
Connect with us today for shining, comfortable workspaces that radiate professionalism!