Why Industrial Floor Cleaning Services Are A Smart Choice For Businesses
Posted on May 10, 2022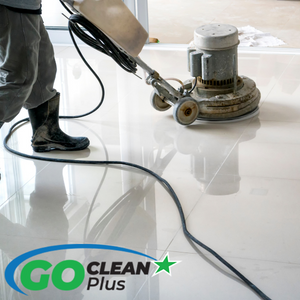 Many businesses these days pay very little attention to the cleanliness of their facilities. By not hiring commercial cleaning services in Toronto, companies may suffer some serious drawbacks impacting their workers and clients. A dirty environment can easily lead to a number of health problems or other issues that can severely hurt a business' productivity.
Industrial floor cleaning services in Toronto are a smart choice for businesses because they can help improve the appearance of the business, extend the floor's life, and create a safer work environment.
The results speak for themselves with industrial commercial cleaning services in Toronto from Go Clean Plus.
What Are Industrial Floor Cleaning Services?
Industrial floor cleaning services are professional services that clean and maintain industrial floors. Industrial floor cleaning services are a step up from regular janitorial cleaning in buildings. These commercial cleaning services are designed to give a deep and thorough clean to highly polished concrete floors, like those found in factories and warehouses.
Industrial floor cleaning services in Toronto are performed by professional cleaning companies. The industrial cleaning process differs from a regular commercial cleaning service because of the type of floor being cleaned. In most cases, schools and office buildings use synthetic flooring that is easy to clean and maintain. On the other hand, industrial floor tiles or concrete floors are smooth and polished, making them difficult to clean without professional help.
Many of the best industrial floor cleaning services include:
Floor Polishing
Floor Sealing
Floor Coating
Floor Acid Etching
Floor Stripping
Benefits To Industrial Cleaning Services
There are many benefits that businesses can reap by investing in industrial floor cleaning services. Perhaps the most obvious benefit is improved cleanliness and hygiene within the workplace. This can lead to a healthier workforce and provide a more professional image to clients and customers.
Another key benefit of professional floor cleaning services is that they can help extend your flooring lifespan. By removing built-up dirt, grime and other debris, you can prevent wear and tear on your floors, thereby prolonging their life expectancy. This can save you a considerable amount of money in the long run, as you won't need to replace your floors as often.
Finally, regular floor cleaning can also improve safety within the workplace. Slips, trips, and falls are among the most common accidents in workplaces, but they can easily be prevented with a clean and well-maintained floor. By ensuring your floors are regularly cleaned and free from hazards, you can create a safer environment for both your employees and your customers.
Go Clean Plus is a fully insured, bonded and certified professional cleaning company in Toronto that offers a wide range of cleaning services, from commercial cleaning services to commercial carpet cleaning services and industrial floor cleaning services. Contact us today to inquire about how we can help you keep your business or industrial space spotless!