How to Reach Your Workplace New Year's Resolutions with Office Cleaning Services
Posted on December 20, 2022

A new year brings new goals and expectations for businesses. And while many of those objectives revolve around profits, business partners, and clients, success starts internally with a functional and clean workplace. That is why planning for the year should also include cleanliness goals. The new year is the ideal time to consider commercial cleaning services for office cleaning services in Toronto. Hiring a commercial cleaning company for janitorial services has numerous advantages:
Improve Profitability & Productivity.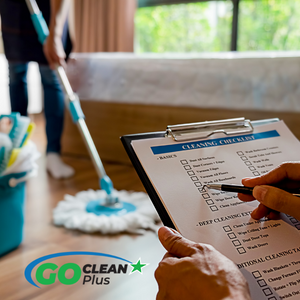 Office cleaning can be extremely time-consuming and laborious. Outsourcing office cleaning services in Toronto to professional cleaners can save you time & money. Your employees will not be bogged down by routine cleaning tasks and can focus on their work. This means greater efficiency, productivity, and better profits. Also, a messy and cluttered workplace can hamper productivity. A fresh and clean office environment brings positivity; employees will look forward to working and putting in their best efforts. Happy and satisfied workers attract more business. So, consider hiring a commercial cleaning company to boost your bottom line!
Enhance Company Culture
A messy and disorganized office can negatively impact business partners, potential clients, and customers. Clean and organized workspaces look professional and show that you care about the health of your employees, business clients, and customers. A neat and organized office reflects positively on the company culture and brand value. Hiring commercial cleaning services is a distinct advantage as they possess the necessary experience, training, tools & supplies to thoroughly clean and disinfect your premises.
Enhance Office Organization
Regular cleaning and decluttering of your office help achieve a more efficient and organized workspace. Removing unnecessary items piled up in the office creates more space and prevents chaos. Once all the workplace clutter is cleared, your staff can process information quickly and focus on their work. Plus, employees can locate important documents, files, and equipment easily. Overall, an organized workarea will lead to greater efficiency and productivity.
Reduce Absenteeism
Offices and commercial spaces are a hotspot for germs and viruses. There is always a risk of illnesses and the spread of contagious diseases with space constraints, shared equipment & high-touch areas. Allergens and infections can increase employee sick days and absenteeism. This can directly impact productivity and employee morale. Keeping a clean and sanitized workplace can reduce illnesses like the common cold, flu, or other contagious ailments. A workplace new year resolution for professional office cleaning services in Toronto can free your workplace of pathogens and diseases. Employees will be happy and healthy, with lesser sick days, improved morale, and better productivity.
Resolve for a Clean & Organized Office in 2023
Jumpstart the new year by including office cleanliness & organization goals in your resolutions for the workplace. Whether you have a commercial cleaning service or not, this is the ideal time to assess your cleaning standards and resolve to aim higher. With the experts at Go Clean Plus managing your office cleaning in Toronto, you're sure to achieve those New Year's resolutions! As Toronto's trusted cleaning service provider, Go Clean Plus ensures a spic and span workspace with a trained & skilled cleaning crew and cutting-edge cleaning equipment & techniques. Partner with team Go Clean Plus to reach your workplace resolutions.
Connect with us to discuss your cleaning needs and a free office cleaning quote today!