How to Keep Your Office Tidy In-Between Cleaning Services
Posted on September 06, 2022

Hiring professional office cleaning services in Etobicoke can revolutionize your at-work cleaning experience. Janitorial cleaning services allow you to remove time-consuming office clean-up from your to-do list, so your time is best spent managing your business and maintaining a productive team. Since most companies don't schedule office cleaning services every week, the mess can pile up between cleaning days, adversely affecting morale and pride at work. Here are some practical tips on maintaining a clean office between visits from your janitorial cleaning service in Etobicoke.
Dust & Sanitize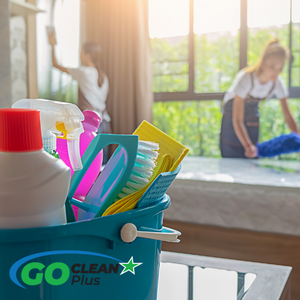 Keeping office equipment and furniture clean and sanitized is essential for a healthy and dust-free workspace. Only a few minutes to dust and sanitize your working area and equipment, like keyboards, laptops, etc., can help keep it tidy and clean. Use paper towels or disinfectant wipes to remove accumulated dust and grime.
Organize & Declutter
Organizing your workspace can go a long way in keeping the office clean and clutter-free. Carve out some time to declutter desks and organize the work area for better productivity and easy cleaning between your office cleaning services in Etobicoke. Consider easy access to frequently used items, and use storage bins, stands, or baskets to neatly hold desk items. Office cabinets, shelves, and other storage solutions can improve organization and aesthetics.
Make Cleaning Supplies Accessible
Easy access to cleaning supplies for employees will help instill cleanliness. Keep antibacterial or disinfectant wipes at hand for accidental coffee spills and quick wipe-downs of desks and countertops. Strategically placed garbage bins near desks and workspaces will help keep the area clean.
Empty Trash Cans
Taking a couple of minutes to empty trash cans at the end of the day can help maintain a neat and clean office. Unused food items in the trash can breed unhealthy bacteria—regularly emptying the trash can foster a healthier workplace.
Have a Dedicated Eating Space
Eating at the desk is not only detrimental to your mental health, but it also affects cleanliness. Encourage your employees to take a break and eat in a common area like the office break room, kitchen, or outside. It needn't be fancy or expensive—even a small table in the office corner can be a designated eating area.
Shared and Public Area Rules
Common areas like break rooms, toilets, and pantry are the most used and prone to accumulating dirt, dust, and harmful pathogens. These areas must be kept clean and disinfected. Basic rules for maintaining cleanliness in these common areas can help prevent the spread of germs and illnesses.
Add Doormats & Seasonal Cleaning Tools
Keeping a doormat at the entryway will minimize the dust and dirt tracked through shoes and boots. Keeping seasonal cleaning tools like umbrellas, heavy-duty rugs, or mats can prevent most water and slush from getting tracked inside your office.
Increase Cleaning Schedule
Ultimately, you want your staff to focus more on their work than tidying up! If you feel you cannot keep up with cleaning tasks, don't hesitate to increase the service visits from your janitorial cleaning service. Investing in regular office cleaning services in Etobicoke is worth the money.
Office Cleaning Services Etobicoke
A tidy office has numerous advantages—it keeps your staff healthy and happy and boosts customer confidence. Follow the above tips for a neat office between janitorial cleaning service visits. Looking for reliable office cleaning services in Etobicoke? Look no further than Go Clean Plus! Expertise, experience, and professionalism help us to deliver an exceptional level of cleanliness for your office.
Connect with us to learn how we can help make your office sparkle every day!