How To Hire The Best Office Cleaning Company In Toronto
Posted on June 04, 2021

Your office space should be an area where productivity and creativity flourish. You want your office to be an inviting and attractive space for your employees to conduct business in. Not to mention, priority number one of wanting to keep your office space clean and disinfected to prevent the spread of COVID-19.

To do this, you need to hire the best office cleaning service in Toronto - and that's Go Clean Plus.
How To Hire The Best Professional Cleaning Services
Look At Experience And Reputation: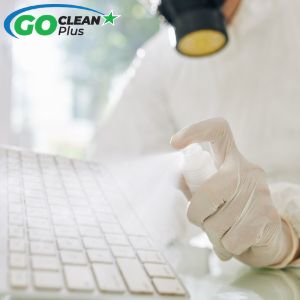 When looking to hire professional commercial cleaning services, you need to trust what the company is promising to deliver.
Always ask the following questions:
How long has the company been established in the Toronto and GTA area? Go Clean Plus has provided office cleaning services in Toronto and the greater Toronto area for over 20 years.
Do they have any certifications? Go Clean Plus is a WSIB certified professional cleaning company. They also offer a 100% satisfaction guarantee for all services.
What Do Customers Say? Head over to the home page of Go Clean Plus to see a list of 5-star reviews from happy customers. You can also check an office cleaning companies google listing ratings.
See What Services Are Offered
Any qualified and reputable office cleaning company should be able to offer customers a variety of cleaning services. Each office building in Toronto and the surrounding area are unique and may require different cleaning services.
At Go Clean Plus, all of our staff are well-trained, experienced and versatile. We offer professional cleaning services for the following areas:
Long Term Care Homes
Government Buildings
Institutional Buildings
Event Clean Up
Post Construction Clean-Up
Check For Specialized Cleaning Services
At Go Clean Plus, we have four primary professional cleaning services that we offer in Toronto & the GTA.
1. Commercial Office Cleaning
Our commercial office cleaning services are comprehensive and detailed. Our office cleaning services include floor cleaning, carpet steaming, bathroom sanitizing, window cleaning and anything and everything in between.
2. Electrostatic Cleaning
We offer high quality electrostatic deep cleaning for businesses located in Toronto and the GTA. This highly specialized cleaning service is best supplemented with regularly scheduled cleaning.
3. Professional Painting Services
Our team is knowledgeable and adaptable. We don't just offer cleaning services - we offer exterior or interior painting services for residential and commercial spaces.
4. Post Construction Clean-Up
For any residential or commercial construction project, call on the trained staff at Go Clean Plus. We have the necessary equipment to efficiently complete the job.
Go Clean Plus is the best office cleaning company in Toronto because:
They only hire trustworthy and qualified employees
They offer fully customizable cleaning services
They offer a 100% satisfaction guarantee on all jobs!
They professionally clean large and small residential and commercial spaces.
As we approach Phase 1 of the re-opening plan, businesses need to ensure they are doing their part to prevent the spread of COVID-19 and keeping their employees safe. The only way to do so is to hire a professional cleaning company in Toronto to perform regular deep cleaning. Contact Go Clean Plus today for a free quote!