How to Choose the Right Industrial Cleaning Company for Your Business
Posted on September 12, 2022

As with all vendors, the ideal janitorial cleaning service for your business must align with your company's values and needs. Industrial cleaning services are not identical to other commercial cleaning services in Etobicoke, and as such, they must be able to meet the demands of the industrial space. Thankfully, Go Clean Plus has the training, experience, and tools for comprehensive industrial cleaning services.

Want to find the right industrial cleaners for your facility that you can trust? Ask the following questions and use the tips below.
Check Their Website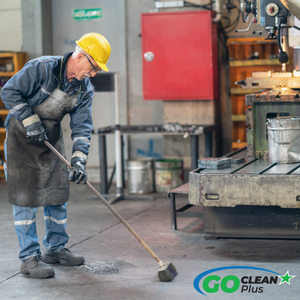 Industrial cleaning services are different from regular janitorial cleaning services. Cleaning protocols for a factory, plant or construction site differ significantly from office space. They are focussed on industrial and manufacturing needs and require specialized cleaning techniques tailored to an industrial setting. So, check the company website to see that they offer professional industrial cleaning services.
Do They Have Experience & Expertise?
Finding a janitorial cleaning services team with experience and expertise is essential. Consider the years a company has been providing dedicated industrial cleaning services. Choose one with considerable experience cleaning warehouses and factories, preferably in scenarios similar to your industry. Also, check customer reviews and testimonials before making a final choice. They can provide excellent insights into the cleaning company you may be contemplating.
What Cleaning Services Do They Offer?
Next, detail the specific cleaning services you require for your business. Does the industrial cleaning service you're considering offer the services you need? Factory settings often require emergency or other specialized cleaning services like industrial floor cleaning, window cleaning, post-construction cleanup or electrostatic disinfection. Make sure that the company you choose offers all the extensive cleaning services you may require from time to time.
Does Their Timing Fit Your Work Schedule?
The industrial cleaning provider you choose should offer timings that fit your company's work schedule. The cleaning crew should be available at the most convenient time for you and not the other way around! The cleaning company should also understand that industries have tight deadlines with round-the-clock operations. The crew must have the industrial-scale cleaning equipment to clean quickly but thoroughly, with minimal downtime.
Get a Quote. Does it Match Your Price Point?
Once you've narrowed down your search, ask for a quote. You'll want to ensure that there is transparent pricing and that it fits your company budget. However, do not select the company with the lowest quote! Work with a cleaning service provider offering comprehensive services at fair and affordable rates. The ideal cleaning company will discuss your specific requirements to provide an accurate quote. The company should be straightforward and approachable in dealing with your queries and offer pricing that suits both parties.
Go Clean Plus is the Answer to Your Industrial Cleaning Needs
With more than 20 yrs of expertise in commercial, industrial, and janitorial cleaning services, Go Clean Plus is the industrial cleaning company you need! Our experienced cleaning crew has expertise in handling all types of manufacturing and factory premises. Our state-of-the-art industrial cleaning equipment and products ensure high efficiency and safety standards on your premises, preventing accidents and other health/environmental hazards. Connect with us for a comprehensive cleaning assessment and customized cleaning schedule for your business!