How To Choose The Best Office Cleaning Company
Posted on March 08, 2021

A clean and safe workplace is essential for maintaining a good and productive work environment. In fact, it is even more important in these pandemic times. Hiring the right commercial cleaning service in Toronto will ensure peace of mind and a clean, sanitary office. Apart from offering reliability and complete cleaning, an office cleaning company also adds a professional touch. With so many cleaning companies in the market, finding one that best fits your company's needs can be confusing. Here's how to choose the right commercial cleaning company for your office:
Find a Reputable Cleaning Company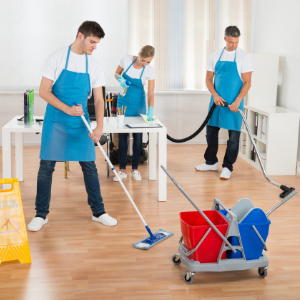 The first step is to look for a trustworthy cleaning company, either through word of mouth recommendation or by a google search. Hiring a company that has been recommended by another business helps one to be sure about the company's reliability and cleaning standards. You can also do a background check on the company by visiting their website. A google search will throw up many companies—you need to read through the reviews and compare various cleaners to make an informed decision. Don't hire the first company that pops up on your search, and read both positive & negative reviews to gauge the company's reliability and service quality. If possible, contact the referees for genuine feedback on their commercial cleaning services.
Go for Experience & Credibility
Choose a company that is well established and has the necessary experience to meet your cleaning needs. Choose a company that has been in the business for a while—they will have an established cleaning process and an experienced cleaning crew. Hiring a company with experience will ensure that they can handle all cleaning issues and manage your cleaning process with minimum supervision.
Ensure Safety and Security
Everyone wants to hire an office cleaning company they can trust, including the cleaners. Have a clear communication on the security measures and ensure that the staff is professional and clear about your company's security measures.
Get Quotes & Compare
After being satisfied with the background check, get quotations from a few potential commercial cleaning companies. The company representatives may visit your office to estimate the size and scope of work before quoting their price. The quote should detail their cleaning regimen like vacuuming, mopping and sanitizing services. Compare the various quotes, and then settle for a company that suits your requirements. While you may want to save money, remember that the lowest quote may not always be the best in terms of services offered. Choose wisely!
Contract and Service Agreement
A professional commercial cleaning company will provide a contract detailing service terms such as time/cleaning days, tasks included, price, cleaning products used, other supplies and cancellation policy etc. A contract ensures that both parties are clear about the service terms and expectations.
Lastly, whichever company you choose, make an informed decision to ensure they are the right fit for you!
Looking for a reputable and trustworthy office cleaning company?
Add the plus factor to office cleaning with Go Clean Plus! With more than 20 years of cleaning expertise and disinfection protocols vetted by Health Canada, we are the cleaning company you can trust! We guarantee the highest standards of cleaning and exceptional customer service at prices you'll love! Contact Go Clean Plus or call us on 647-344-0144 today for a customized cleaning regimen that fits your unique business needs!