How to Avoid Salt Stains on Office Carpets
Posted on April 06, 2021

Winter weather can wreak havoc on the outside of office buildings. Most companies will shovel and salt their walkways and parking lots to deal with the build-up of snow. Unfortunately, this can bring rock salt inside the office building, where it can cause significant damage to carpets. A commercial cleaning company can help you not only maintain a clean and safe office but also help to regularly remove rock salt from your carpets before it can cause long-term damage. If you are already looking for an office cleaning services to help protect your business from COVID-19, they can also help remove salt stains that have built up over years of exposure to winter boots and shoes.
Why is it Important to Remove Salt Residue?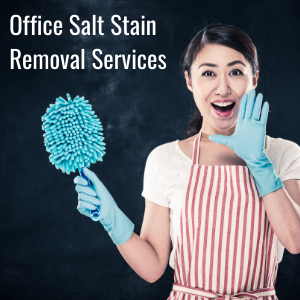 Most people think salt is an essential part of any winter maintenance routine. Salt helps to melt ice and prevent slipping and injuries on company property. However, when salt is tracked indoors on boots and shoes, it can cause physical and chemical damage to carpets. If left throughout the winter, this salt can cause stains and decrease your office space's overall aesthetics. Over time, salt can also cause irreparable damage that will require a complete replacement of your office carpeting. Removing the residue as soon as possible with a commercial cleaning company is the best way to avoid expensive damage.
Products Needed
Unfortunately, vacuuming alone cannot remove salt residue. An office cleaning company will have all the products needed to remove salt stains from the carpet. Depending on the commercial company in Toronto and the extent of the damage, the cleaners may use a natural solution such as vinegar and warm water or use an industrial carpet cleaner. We recommend hiring a commercial cleaning company to professionally remove salt stains in no time. Your employees can then continue to focus on their work, knowing they are in a safe and clean office.
How Long will a Commercial Cleaning Company Take?
Depending on your office's size and the extent of the salt damage, an office cleaning company can professionally remove stains in as little as 30-90 minutes. Many commercial cleaning services can integrate salt stain removal into their regular cleaning routine to protect your carpets and floors before damage can take hold.
For professional salt stain removal and professional commercial cleanin/services/commercial-cleaning-services-in-torontog services in the Greater Toronto Area, look no further than Go Clean Plus. Our team of expert technicians can clean any size of commercial space, including everything from small offices to large warehouses. With our range of services, we can disinfect any surface or office space to protect against COVID-19 and other viruses that cause colds and flu. Instead of having your employees waste valuable time cleaning the office, a commercial cleaning company can provide a thorough clean of your space in no time. We offer flexible cleaning schedules, including daily, weekly, and monthly packages. To schedule a professional cleaning or organize a cleaning schedule, contact the Go Clean Plus team at 647-344-0144.