How Schools Benefit from Janitorial Services in Toronto
Posted on September 30, 2023

Maintaining a clean and hygienic atmosphere in educational institutions is a crucial factor for student and staff well-being and productivity. As teachers and administrators concentrate on delivering quality education, janitorial services in Toronto, often operating behind the scenes, go unnoticed. Particularly in Toronto, where a diverse array of schools caters to countless students, the role of commercial cleaning services in Toronto in ensuring a conducive learning environment cannot be overstated.
Prioritizing Health and Safety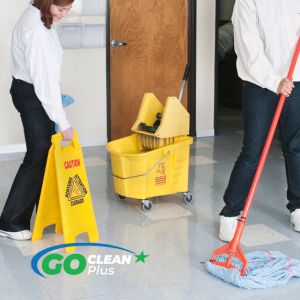 Ensuring the health and safety of students and staff is paramount. Commercial cleaning services in Toronto with Go Clean Plus possess expertise in maintaining rigorous cleanliness standards. They play a crucial role in regularly sanitizing classrooms, common areas, and restrooms, reducing the risk of contagious diseases, and promoting overall health and well-being. During flu seasons or pandemics, janitorial staff can implement specialized cleaning protocols to maintain safety.
Enhanced Learning Environments
A clean and well-maintained school environment brings about a positive atmosphere for learning. When students work and learn in a clean and organized classroom, they are more likely to feel motivated and focused on their studies. Janitorial services can assist schools in creating this conducive environment, ensuring that classrooms remain free from clutter, dust, and distractions.
Prolonging Asset Lifespan
Toronto schools often invest significant resources in maintaining their facilities and equipment. Janitorial services do not merely clean but also protect these valuable assets. Consistent cleaning and maintenance efforts can extend the lifespan of furniture, flooring, and fixtures, ultimately leading to long-term cost savings for schools.
Tailored Cleaning Solutions
Each school possesses unique cleaning needs that stem from factors such as size, layout, and specific activities. Professional janitorial services, such as Go Clean Plus, can customize their cleaning plans to cater to these requirements. Be it a small elementary school or an expansive university campus, janitorial services in Toronto can devise a cleaning schedule that aligns with the institution's distinct needs and financial constraints.
Eco-Conscious Practices
Sustainability and environmental responsibility have gained prominence in today's world. Many janitorial services in Toronto offer environmentally friendly cleaning solutions, employing green products and practices that minimize their ecological footprint. This aligns with the values held by many educational institutions and serves as an educational example for students regarding the importance of environmental stewardship.
Flexibility and Convenience
Go Clean Plus provides schools with the flexibility and convenience they require. Cleaning services can be scheduled during off-hours, mitigating disruptions to classes and activities. This ensures that the learning process remains uninterrupted while maintaining a clean and orderly environment.
Specialized Services
In addition to routine cleaning, Go Clean Plus can provide customized services like floor waxing, carpet cleaning, and window washing. These services contribute to presenting schools with a polished and professional appearance, leaving a positive impression on parents, students, and visitors.
Regulatory Compliance
Schools must adhere to various health and safety regulations, including those related to cleanliness and sanitation. Professional janitorial services possess a thorough understanding of these regulations and can ensure that schools remain compliant, avoiding potential legal complications.
Enhancing Educational Environments with Go Clean Plus
Commercial cleaning services in Toronto, such as Go Clean Plus, play a pivotal role in establishing a healthy, safe, and conducive learning environment for students and staff alike. Their expertise in maintaining cleanliness, customized cleaning solutions, and commitment to eco-friendly practices make them indispensable allies for educational institutions. By investing in professional cleaning services, schools can concentrate on their core educational mission, secure in the knowledge that their facilities are in capable hands. It's not just about tidy classrooms; it's about nurturing an improved educational experience for everyone involved.