How Janitorial Services Contribute to a Healthier 2023
Posted on January 11, 2023

Cleanliness and good hygiene are critical for healthier workspaces and will remain a top priority for businesses in 2023. Moreover, illnesses like colds and flu are at their peak during this time of the year. This can negatively affect return to work and hamper productivity and morale in the workplace. Professional janitorial services can streamline things and help companies to stay on top of office cleaning in Toronto.

Here's how regular janitorial services can keep your team healthy and happy.
Complete Disinfection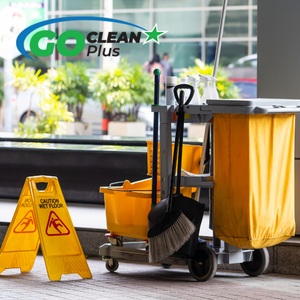 Curbing the spread of infections among employees is essential for a safe and healthy work environment. While in-house cleaning in offices reduces the risk of illnesses, it does not entirely eliminate disease-causing pathogens and the risk of cross-contamination. This is where disinfection and sanitization play a crucial role in limiting the impact of the latest virus variants. Hiring experienced professionals for disinfection and office cleaning in Toronto will help prevent staff illness and downtime.
Go Clean Plus provides custom disinfection protocols approved by Health Canada to maintain high-risk areas like breakrooms, bathrooms and common areas.
Allergen-Removal
Winter brings its own share of sniffles, coughs and colds. A dedicated janitorial staff will help keep disease-causing pathogens at bay. Regular sanitization and cleaning of high-touch areas will minimize allergies and illness in the workplace. Special attention is required for carpets and upholstery as they can accumulate dust and other contaminants. Professional cleaning companies will maintain indoor air quality by regular vacuuming and carpet cleaning to reduce allergens in the office.
Non-Toxic Cleaning Materials
Employee health is an area of concern for all employers today. Professional and responsible cleaning companies use environmentally safe and non-toxic cleaning products to provide a green clean for your facility. Using eco-friendly products will help prevent adverse allergic reactions in the workplace. Many people are sensitive to harsh chemicals used in many regular cleaning materials. Go Clean Plus offers sustainable cleaning solutions and uses only safe and environment-friendly products. Trust the expertise of team Go Clean Plus—rest assured that only the best green cleaning products will be used to keep your office sparkling and germ-free!
Improve Morale & Productivity
A dirty and unkempt facility can impact the daily work experience. Your staff spends a considerable majority of their day at work. An unclean working environment can also lower employee motivation and morale, leading to poor mental health and productivity. Keep the work blues away and reduce conflict in the office by providing a healthy and cheerful work environment. Professional janitorial services will ensure a clean facility and fresh indoor air. Your employees will be happy, motivated and productive from day one in 2023!
Say Yes to a Healthier 2023 with Janitorial Services
Maintaining a healthy and clean facility while running an office/business can be challenging. That's where professional janitorial services from Go Clean Plus can help. Partner with us for office cleaning in Toronto and benefit from our comprehensive cleaning and disinfection services. We use green-certified disinfectants and state-of-the-art HEPA filter equipment to eliminate pathogens completely. With twenty years of cleaning expertise, custom-cleaning schedules & solutions, and budget-friendly pricing, Go Clean Plus guarantees 100% customer satisfaction.
Call or message us today for a service quote and consultation!