How Industrial Cleaning Services Mitigates Workplace Injuries
Posted on November 08, 2023

A workplace's cleanliness and safety are crucial aspects for both employees' well-being and a company's operational efficiency. Workplace injuries can incur substantial costs, hinder productivity, and cause personal suffering. Often overlooked but of great importance is the role of industrial cleaning services in mitigating workplace injuries. Let's explore how industrial cleaning services contribute to safer work environments through a focus on cleanliness, organization, safety, and risk reduction. A professional commercial cleaning company like Go Clean Plus has the solution to your workplace injury risks.

To learn more about how industry cleaning services can prevent workplace injuries, read on.
Keeping the Work Environment Hygienic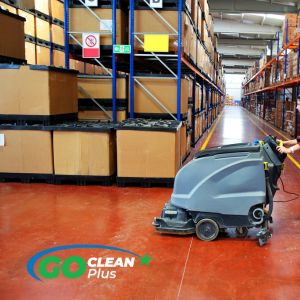 In ensuring workplace safety, industrial cleaning services have a significant function in promoting a clean and hygienic work environment. In industrial surroundings, the buildup of dirt and debris can result in slippery surfaces, heightened tripping hazards, and the blockage of emergency exits. By consistently cleaning and maintaining floors, machinery, and equipment, the likelihood of accidental slips, trips, and falls is greatly diminished. Additionally, maintaining a clean workspace introduces a culture of cleanliness, motivating employees to keep their work areas organized and devoid of hazards.
Better Organization and Efficiency
Efficiency and organization are fundamental elements for ensuring a safe workplace. Industrial cleaning services contribute to this by decluttering workspaces, ensuring the proper storage of tools and materials, and arranging equipment for convenient access. Well-organized workplaces result in fewer workplace injuries, as employees can easily locate what they need without sifting through chaotic piles of materials. Adequate storage of tools and equipment reduces the risk of falling objects and accidents stemming from improper handling.
Ensuring Adherence to Safety Regulations
Industrial cleaning services play a crucial role in guaranteeing that workplaces follow safety regulations and standards. Regulatory bodies impose strict requirements for industrial cleanliness and safety. Incurring fines and, more importantly, heightening the risk of injuries can result from non-compliance. Cleaning services, with their comprehensive knowledge of these regulations, can assist in upholding a safe work environment in accordance with legal standards, therefore reducing the chances of workplace injuries and legal consequences.
Minimizing the Risk of Exposure
Industrial cleaning services are proficient in managing the cleaning and safe disposal of such materials. Whether it involves chemical spills, biological contaminants, or toxic residues, a commercial cleaning company, such as Go Clean Plus, has the expertise and equipment needed to mitigate these risks. By entrusting the cleaning of hazardous materials to experts, workplaces can significantly reduce the likelihood of employee exposure, subsequently lowering the chances of related injuries and long-term health concerns.
Top-Rated Commercial Cleaning Services for Industrial Property
Professional Industrial cleaning services like Go Clean Plus are an essential component in workplace safety and the prevention of injuries. Through the maintenance of a clean, organized environment, compliance with safety regulations, and the handling of hazardous materials, these services make substantial contributions to employee well-being and the overall success of industrial operations. Investing in professional office cleaning services, Go Clean Plus, is a proactive measure that not only mitigates the risk of workplace injuries but also encourages a culture of safety and cleanliness.