Go Clean Plus: The Trusted Office Cleaning Company in Toronto
Posted on May 07, 2021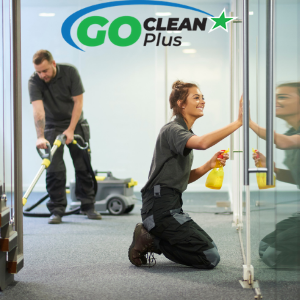 Presenting a clean and well-organized office to potential clients and customers says more about your business than you realize. Toronto is a fast-paced city where perception matters, and a commercial cleaning company is one of the foundations of a strong business. Go Clean Plus is a trusted office cleaning company in Toronto that recognizes the intrinsic values that a sparkling workplace communicates. We provide round-the-clock commercial cleaning services in Toronto so that you're ready to go when needed.
Commercial Cleaning Services
Go Clean Plus offers a range of cleaning services to suit businesses big and small:
Commercial cleaning
Regular maintenance of public and private areas at your business communicate confidence and welcome.
Industrial cleaning
When your warehouse, factory, or manufacturing facility needs a deep clean, you can't beat the professional touch.
Carpet cleaning
Did you know that carpets can harbour allergens and other irritants that decrease productivity? Carpet cleaning services can help your employees breathe easier and work more efficiently.
Emergency services
When something unexpected comes up, Go Clean Plus will help you get back on track.
We Offer it All!
Our professional cleaning teams are well equipped for any tasks your office needs. Some of our most requested services include:
Washroom disinfection
Dusting and surface cleaning
Floor cleaning
Carpet cleaning
Upholstery cleaning
Mopping and sweeping
Wall cleaning
Electrostatic disinfection
Window cleaning
If you're moving into a new office space and need a commercial cleaning company to help make the transition smooth, Go Clean Plus can help with this too! We offer free quotes and customized solutions to make sure our 100% customer satisfaction guarantee is met.
Why Commercial Cleaning Can Help
Hiring an office cleaning company streamlines office maintenance and allows your employees to work at their best. By hiring Go Clean Plus's cleaning teams, you benefit from our:
Cleaning Experience and Expertise
Our staff know what tools they need to do a job right and bring all the specialized supplies, products, and tools they need. With more than 20 years of experience creating clean and healthy work environments, we feel confident you'll be satisfied.
Reliable and consistent
Building a trusting relationship with our clients is part of the Go Clean Plus approach. We work closely with you to tailor a cleaning package that suits your needs and ensure we arrive on time.
A deep clean
We're licensed by Health Canada to offer electrostatic disinfection. This technique is commonly used in healthcare or nursing facilities to ensure a high degree of sanitization.
Put your best foot forward by hiring a commercial janitorial cleaning company that you can trust. Go Clean Plus offers highly trained and professional cleaning teams and competitive, customized cleaning packages to meet your needs and budget. Whether it's daily, weekly or specialized maintenance that you need, a clean and well-maintained office is a must. To ask about our free quotes or to learn more about commercial office cleaning, contact us or call us at 647-344-0144.