FAQs On Electrostatic Cleaning
Posted on February 17, 2021

The ongoing COVID-19 pandemic has highlighted the importance of clean and disinfected surfaces in common areas. This is especially true in workspaces, where a clean space protects staff and clients' health and safety. Many commercial spaces try to manage their cleaning routine on their own. However, commercial cleaning services are completed by a team of trained technicians to thoroughly disinfect your space with industrial techniques such as electrostatic cleaning. With a professional cleaning company's help, your employees can focus on their work knowing that their employer protects their health and safety. Here are answers to some of the most frequently asked questions about electrostatic cleaning answered by a professional cleaning company.
What is electrostatic disinfection?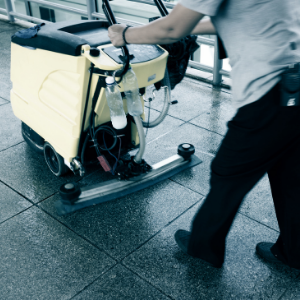 Electrostatic cleaning is a common practice in long-term care homes and healthcare facilities. It uses a touchless disinfection system that relies on an electrostatic charge to disinfect all surfaces using a quick and effective process. With positive and negative charges, electrostatic cleaners electromagnetically charge disinfecting solutions to help them stick to all surfaces. Regardless of the angle, you spray the solution, the electromagnetic charge allows it to wrap around and disinfect a surface with 360-degree coverage. Electrostatic cleaning is only available through professional office cleaning services with trained technicians capable of operating the system.
Is electrostatic cleaning effective against COVID-19?
Yes, electrostatic cleaning can kill the virus that causes COVID-19 in one minute. Most professional cleaning services recommend electrostatic cleaning with chemicals to disinfect all surfaces and areas of commercial businesses during the ongoing pandemic.
How safe is electrostatic cleaning?
Electrostatic cleaning is safe for both the person applying the disinfectant and anyone else present during the process. No additional masks or personal protective equipment are necessary during the disinfection. The process is also safe for use on electronics and other hardware from a distance. However, we recommend putting away any paper documents, food, and open drink containers before the electrostatic cleaning service.
How long does electrostatic disinfection take, and how long does it last?
The disinfection process will depend on the size of the commercial space the technician is cleaning. Compared to traditional cleaning methods, electrostatic cleaning can reduce the disinfection time by upwards of 40%. This process effectively kills germs, pathogens, and viruses on surfaces in your workplace, but it does not protect from future contamination. If exposure of germs to surfaces in your workspace occurs daily, you may require more frequent cleaning.
At Go Clean Plus, our expert team offers professional commercial cleaning services in Toronto, including electrostatic cleaning for commercial businesses in the Greater Toronto Area. We offer flexible cleaning packages to reflect small and large companies' needs, including everything from daily, weekly, and monthly disinfection schedules. During the ongoing COVID-19 pandemic, it is essential that your staff and clients feel safe in your workspace. Professional cleaning services can provide peace of mind for visitors to your business that their health and safety are your top priority. To book an electrostatic cleaning or learn more about our pandemic cleaning protocols, contact Go Clean Plus at 647-344-0144.