Comparing Commercial Office Cleaning & Janitorial Services
Posted on May 30, 2023

You might have decided you are ready to enjoy all the benefits of having your office professionally cleaned and are trying to figure out the best service for your business: commercial office cleaning in Toronto or janitorial services in Toronto. Commercial office cleaning involves deep cleaning, whereas janitorial services are regular smaller cleaning tasks. Go Clean Plus offers both services and will customize a cleaning schedule or tasks when some businesses use both services for differing benefits.

Read on to learn the difference between commercial office cleaning and janitorial services.
What is Commercial Office Cleaning in Toronto?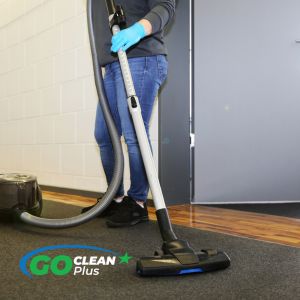 Commercial office cleaning in Toronto is used as needed and is made of larger cleaning projects and tasks than janitorial services. Commercial office cleaning provides a thorough and comprehensive cleaning of your business. Go Clean Plus's commercial office cleaning includes window washing, floor cleaning, carpet steaming and full sanitization of bathrooms and kitchens.
This thorough cleaning is especially useful after seasonal changes and keeps your employees healthy and productive. Commercial office cleaning sanitizes the area, removes allergens, germs and dirt from your business and leaves it in fantastic condition.
You want to make your business as clean as possible to provide a safe working environment, boost employee morale and make a good impression on clients or investors.
What Are Janitorial Services in Toronto?
Janitorial services in Toronto differ from commercial office cleaning services because they perform smaller and regular cleaning tasks. Janitorial and commercial office cleaning services can be taken advantage of by all different types and sizes of businesses.
Janitorial services are more like the daily cleaning maintenance for your workforce and building.
Go Clean Plus offers comprehensive janitorial services, which include day porter services, window cleaning, dusting and disinfection of all surfaces, waste management, vacuuming, sweeping and mopping floors and restroom cleaning. Go Clean Plus also offers disinfection of all high-touch areas and items in their janitorial services which will help keep your team healthy, happy and productive.
Nothing is more discouraging than working in unclean or unhygienic workspace; investing in janitorial services will help reduce employee turnover and sick days. It will also keep your office or business more presentable and attractive to clients, customers, visitors and employees.
Get More Commercial Cleaning By Combining Both Services
Most companies would opt for using both commercial offices and janitorial services. Having janitorial services to manage your day-to-day cleaning needs will ensure corners are not cut, and you have experienced professionals thoroughly cleaning your office regularly.
Adding commercial office cleaning services to your regular janitorial services will ensure your business is always fresh, sanitized and looking its best.
Go Clean Plus for Janitorial and Commercial Cleaning
Go Clean Plus offers a well-trained and highly skilled team to thoroughly clean and disinfect your business premises. We have over 20 years of experience delivering customized solutions to our clients. We come prepared with everything needed to effectively clean your office or commercial areas so you don't have to worry about anything. We are WSIB insured and ensure 100% customer satisfaction.