Commercial Cleaning Services For Dental Offices In Toronto
Posted on August 09, 2021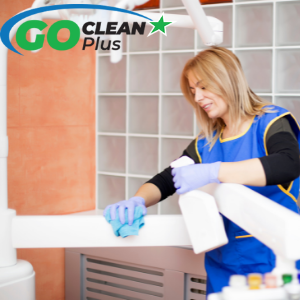 Hire Go Clean Plus today for the best commercial cleaning services for dental offices in Toronto. With the right cleaning staff, your dental office can stay sanitized, disinfected and safe for your employees and patrons. Go Clean Plus is a commercial cleaning company that provides attendant care for dental offices. Our team is well-trained in dentistry sanitization. We can help you ensure your dental office meets standards and stays clean. Get in touch with us today about our office cleaning services in Toronto and how we can keep your office clean and sanitized.
In order to make your dental practice as clean as possible, here are some of the most essential steps your team should take.
Exterior Cleaning Services
There are outside factors that could affect your dental office's overall cleanliness. It is important that your team sweep the outside of the building daily, if only because first impressions matter and how your office looks on the outside says a great deal about the cleanliness of your dental office inside.
Our Outdoor Commercial Cleaning Services Include:
Snow Removal
Landscaping
Pressure Washing
Graffiti Removal
Cleaning Operating Rooms and Equipment
With the right cleaning crew, even a dental office can be sanitized without damaging equipment or causing patient discomfort. At Go Clean Plus, we use medical-grade disinfectant and cleaning products for all of our commercial cleaning jobs in Toronto. It is crucial that you keep all your equipment and instruments clean and sanitized. This will help remove any bacteria or germs that could harm your patients. If your equipment does not look like it has been cleaned recently, consider getting it sanitized professionally by Go Clean Plus.
Reception and Entry Cleaning Services
Our reception and entryway commercial cleaning services in Toronto include wiping down all surfaces, sweeping, mopping and occasionally buffing floors, and sanitation and waste management services. On top of our regular office cleaning services, your employees should also work to keep your reception area clean.
Your reception area is one of the first places your patient sees. Keeping your counter space neat is critical if you want to be viewed as a clean and professional dental office.. Keep clutter to a minimum, so you can work with ease. Keep all items organized as well, especially if you have multiple employees who could easily misplace something on the counter.
Professional Carpet Cleaning In Toronto
Especially in the winter months, it is always a smart practice to invest in entry-way carpets. To protect your investment, it is essential to maintain them by hiring a professional cleaning company in Toronto to commercial clean your carpets on a regular basis. Learn more about our commercial carpet cleaning services today!
The Best Commercial Cleaning Services In Toronto
Go Clean Plus is a commercial cleaning company, serving the Toronto and GTA area for over 10 years. We have a team of well-trained professional cleaning specialists ready to make your office building sparkle. We're dedicated to the very highest standard of cleaning and disinfection. We guarantee customer satisfaction with all our services. Reach out to us today to learn more about our commercial cleaning services for dental offices!