Benefits of Sanitizing & Office Cleaning Toronto
Posted on September 11, 2023

In the office deadlines and turn around time are important. Success is fueled by productivity, which is directly affected by the cleanliness of your office although the office cleaning may not always be top of mind. Maintaining a clean and sanitized workspace is more than just a matter of aesthetics; it's essential for the health, morale, and overall well-being of your employees. This is where janitorial services and office cleaning Toronto come into play, providing a comprehensive solution to ensure your workplace remains a safe and healthy environment. At Go Clean Plus, our skilled teams offer comprehensive office cleaning in Toronto and surrounding cities to protect business and provide ease-of-mind.

To learn more about sanitizing and janitorial services, read on.
Mitigate Contamination with Office Cleaning in Toronto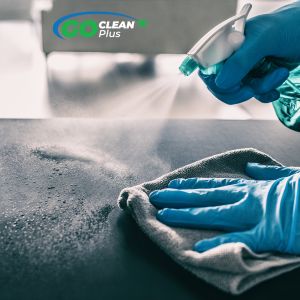 Before we delve into the benefits of sanitizing your office, it's crucial to recognize the silent culprits that can wreak havoc in the workplace: germs. In an office setting, germs are often carried in by employees, clients, or visitors, hitching a ride on their hands, personal items, or even the surfaces they touch. From the common cold to more serious illnesses, these germs can thrive on office surfaces, door handles, and shared equipment, posing a continuous risk to everyone within the premises.
The Benefits of Sanitizing: Shielding Your Workspace
Enhanced Health and Safety: Regular sanitization through professional janitorial services minimizes the risk of illness among your workforce. A clean and disinfected office reduces the chances of germs spreading, leading to fewer sick days and increased productivity.
Targeted Sanitization Zones: Not all areas of your office see the same level of traffic or interaction. Therefore, it's essential to target sanitization efforts effectively. High-touch surfaces, such as doorknobs, elevator buttons, and communal kitchens, should be disinfected frequently to prevent the transmission of germs.
Avoiding Cross-Contamination: Germs can easily spread from person to person through indirect contact. Thorough sanitization prevents cross-contamination, protecting your employees and clients from potentially harmful pathogens.
A Healthy Workforce: A clean and sanitized office fosters a healthier work environment, resulting in higher morale and increased job satisfaction among your employees. When they feel safe and comfortable in their workspace, they are more likely to perform at their best.
Prevent Absenteeism with Janitorial Services
One of the often-overlooked benefits of reliable janitorial services for offices is the potential to minimize absenteeism among employees. A clean and well-maintained workspace is conducive to good health, which, in turn, can reduce the number of sick days taken by your staff. When germs and allergens are kept at bay through regular sanitization, the risk of illnesses spreading throughout the office diminishes significantly. This means fewer employees falling ill due to workplace-related issues, and as a result, improved attendance and productivity. By investing in janitorial services with the trusted and reliable Go Clean Plus team, you can prioritize cleanliness and hygiene, you're not just ensuring a pleasant work environment but also fostering a healthier, more reliable workforce.
Choose Go Clean Plus for Office Cleaning & Sanitization
Our offerings extend beyond mere cleaning; we embrace a comprehensive approach. Our range of services encompasses routine cleaning tasks and thorough workspace sanitization. Our dedicated team leaves no detail unattended, paying meticulous attention to every corner.
Furthermore, we prioritize environmental responsibility alongside cleaning. Our integration of eco-friendly cleaning products and practices reflects our commitment to both your workspace's health and the planet's well-being. Acknowledging the demands of your work life, we offer flexibility and convenience as part of our service. We adapt to your schedule, aiming to minimize disruptions to your daily operations. Whether you require cleaning services on a daily, weekly, or monthly basis, we are here to accommodate your needs.