Benefits of Janitorial Services for Employee Areas
Posted on August 25, 2023

There's more to a clean workspace; it significantly impacts employee productivity, morale, and well-being. Not only that, but the cleanliness of your workspace says a lot about brand image. A clean office shows that a company cares about the small details. Achieve this success with janitorial services with Go Clean Plus, a commercial cleaning company that provides a spotless and bacteria-free environment. From school to office cleaning in Toronto, we have over 20 years of experience. With a great team of cleaning professionals and proper supplies and equipment, call Go Clean Plus and enjoy a gleaming office space.

Learn more about the benefits of janitorial services for all areas of your office.
Lunch Rooms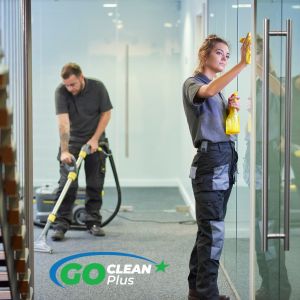 Cleanliness is an essential factor when it comes to eating areas. People associate what they're eating and where they eat it with hygiene. If a lunch room is left without janitorial services, bacteria and dirt can grow to create an unhealthy and sometimes dangerous environment. This also increases the risk of ingesting these substances. Create a safe space for your employees to enjoy their lunch break. More desire to sit in the lunchroom during lunch creates a more light-hearted atmosphere within the office to relax and build interpersonal connections with their colleagues. When the urge to leave the workplace is eliminated, workers are more likely to return to work on time, increasing productivity.
Hygienic Bathrooms
Bathrooms can quickly become soiled and unhygienic. It's crucial to have a cleaning service in the bathrooms to prevent the spread of unpleasant odours or bacteria around your office space. When hiring a company for office cleaning in Toronto, get them to clean all areas of your office. This service should include emptying garbage cans, cleaning toilets, mopping, and wiping up water. Bathrooms are used by everyone, making them susceptible to easily made messes. Avoid bacteria, dirt buildup, and mold growth with Go Clean Plus cleaning services.
Boardrooms and Workstations
Boardrooms are often where you host stakeholders or interviewees. It's typically the only room they see, meaning creating a lasting first impression is crucial. A clean boardroom can show professionalism and attention to detail from a company. Though these rooms are used sparingly, it's essential to conduct regular cleanings to prevent dust collection.
Workstations should always be cleaned by the individuals seated there and by professionals. A clear work area provides a clear mind space for innovation and productivity. Whether they are shared or personal workspaces, disinfectant is crucial to stop the spread of any germs or bacteria. Be sure to empty garbage at all workspaces to prevent the spread of strange odours from the waste.
Janitorial Services with Go Clean Plus
As a business owner, it's essential to stay on top of the overall state of your office space, from your employees' productivity to your area's cleanliness. Turn to Go Clean Plus to help you out. As a leading commercial cleaning company in Toronto, we work in large and small spaces with eco-friendly products to eliminate any risk of inhalation of dangerous chemicals. Call us today to book our professionals for a cleaner workspace.