Benefits of Electrostatic Cleaning
Posted on June 02, 2023

Professional office cleaning in Toronto is used to clean and disinfect offices, keep them hygienic and looking pristine. Many cleaning protocols were in high demand by businesses during the pandemic that are still highly effective and useful today, one of them being electrostatic cleaning. Electrostatic cleaning is a Health Canada Approved cleaning protocol that thoroughly disinfects an area. Go Clean Plus is a leader in the commercial cleaning industry offering janitorial services, electrostatic cleaning and the cleaning of government buildings and institutions.

Keep reading to learn more information about electrostatic cleaning.
What is Electrostatic Cleaning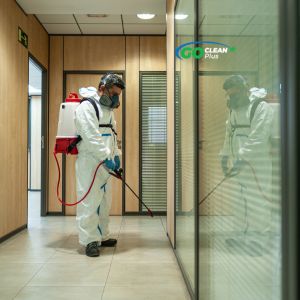 Electrostatic cleaning is a disinfection process whereby disinfection solutions are sprayed on a variety of different surfaces and objects. The spray is electrostatically charged, allowing it to adhere to the surfaces sprayed upon. The positive charge ensures the spray coats and remains on the objects and surfaces, allowing the solution to properly disinfect them.
This disinfection method is highly effective and reduces the time needed to disinfect items and areas.
Electrostatic cleaning is an excellent complement to janitorial services or office cleaning in Toronto. The electrostatic cleaning service by Go Clean Plus is alcohol-free, all-natural and of a hospital grade. Go Clean Plus also uses approved spray systems that comply with all industry guidelines to ensure high-quality disinfection.
What Are the Benefits of Electrostatic Cleaning
Electrostatic cleaning provides a high standard of disinfection by killing 99.9999% of germs. This will keep your employees healthy and productive. Once you reduce germs in a workplace, you help to reduce sick days and prevent disruptions to workflow.
Electrostatic cleaning helps prevent cross-contamination of illnesses and the spread of many illnesses in businesses, schools or medical facilities.
Another benefit of electrostatic cleaning is that the spray can access small areas, crevices and hard-to-reach places to ensure a comprehensive cleaning.
Electrostatic cleaning requires little labour or materials; it is a quick and efficient disinfection technique.
When Should You Get Electrostatic Cleaning
You can get electrostatic cleaning at any time as it will always be a beneficial service. It's beneficial to get an electrostatic cleaning if many colds and flu are going around your workplace or if you haven't had one performed on your premises recently.
Electrostatic cleaning is needed if you have industrial cleaning or disinfection standards, you must comply with or work in an industry where high sterilization levels are required, like salons or spas.
Go Clean Plus For Office Cleaning in Toronto
Go Clean Plus is your trusted commercial cleaning service with over 20 years of experience. Businesses across the city choose us because we are reliable and always provide the highest standards of cleaning. We offer various cleaning services to suit your needs and are happy to customize your cleaning services. We are WSIB-insured and committed to 100% customer satisfaction. Our team of cleaning professionals is well-trained and thorough and takes pride in their work. If you want more information on electrostatic cleaning or any of our other cleaning services, don't hesitate to contact our knowledgeable experts.