The Importance of Floor Cleaning in your Commercial Space
Posted on August 30, 2023

In any space, residential or commercial, floors are bound to be heavily trafficked. It can experience wet shoes, scuffs, spills, and littering. It's crucial to keep floors clean, not just for aesthetic purposes but for safety as well. Go Clean Plus provides commercial cleaning services in Toronto for all kinds of spaces: schools, industrial and government buildings, etc. Janitorial services in Toronto can help to make lasting first impressions on your customers, clients, stakeholders – anyone who enters your space. Contact Go Clean Plus to get your area ready for business.

Learn about the importance of cleaning the following floor types.
Tile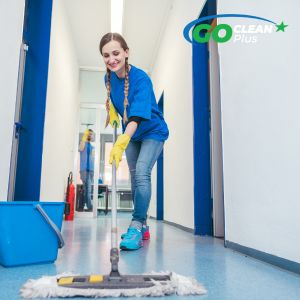 Tile is one of the more slippery flooring materials; therefore, it must be cleaned correctly to ensure no injuries occur. We recommend getting professionals to perform this commercial cleaning service in Toronto, as they have the correct equipment and solutions to achieve the cleanest state possible without creating a slipping hazard. Tiles are also installed with grout, a prime area for collecting grime and dirt. Professionals at Go Clean Plus ensure that all areas are covered and cleaned properly; grout can collect dirt and absorb moisture, too.
Carpet
Carpet is a leading culprit of dirt collection. It is a highly absorbent fabric and more challenging to clean than the other flooring types. Over time, it can collect dust, bacteria, dirt, allergens, and other waste. The carpet is also easily stained if spills occur, making it hard to keep a clean-looking space. This is why carpet is not often used. However, carpet cleaning can work in alleviating the majority of the mess. At Go Clean Plus, we provide carpet shampoo, stain removal, and more at an affordable price.
Epoxy
Epoxy is typically used in industrial buildings, often experiencing traffic and wear and tear. You can usually find scuffs all around. It's essential to perform regular light cleanings, preferably once daily, to prevent dirt buildup from manufacturing and other tasks. A cleaning company will provide deep janitorial services in Toronto to ensure clean workspaces and restore them to normal.
Wood Flooring
Wood flooring is one of the more aesthetically pleasing flooring options. They are typically seen in more professional settings. Therefore, cleaning is crucial. Wood tends to dry out and wear out faster, so polishing and regular cleanings are a must to keep a clean and polished look. With routine cleanings, you are lengthening the life of your flooring, requiring fewer repairs and maintenance.
Floor Cleaning with Go Clean Plus
If you want to clean up your business space, talk to our professionals at Go Clean Plus. We are driven by customer satisfaction to provide the best possible services. As a trusted commercial cleaning company for over 20 years, we are one of the top companies in Toronto. Go Clean Plus can provide services to fit whatever your needs are, no matter the space size or the area's condition. With high-end solutions and equipment, get the best care possible with us. Contact us today to get your business space cleaned up.