Perfect Electrostatic Cleaning: Keep Your Staff Safe
Posted on April 16, 2021

With our everyday world in a tizzy due to the COVID-19 pandemic, business owners and offices are struggling to keep their staff and customers safe. The novel coronavirus can live on surfaces for a few hours to several days. If one touches them and then touches their mouth, nose or eyes, one can catch the dreaded virus. Sadly, the traditional cleaning methods are ineffective in a post-COVID-19 world. While cleaning remains important, sanitization and disinfection are essential to reduce infection and cross-contamination. This is where Hi-tech sanitation, electrostatic cleaning and electrostatic disinfection are gaining traction. Commercial Cleaning Companies like Go Clean Plus follow standardized cleaning protocols and offer tech-enabled electrostatic disinfection.
Electrostatic Spray Disinfection Systems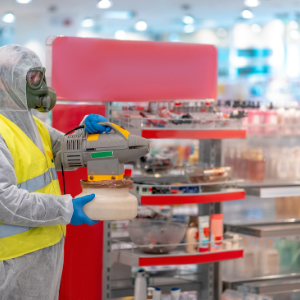 Electrostatic cleaning and disinfection are the new buzzwords in the cleaning world, with more and more offices and commercial establishments realizing their many benefits. Electrostatic disinfection systems convert liquid disinfectant into aerosols and then add a positive electric charge to each disinfectant droplet. This makes the droplets attracted to neutral surfaces like floors, desks, walls etc., through electrostatic forces. Electrostatic disinfection ensures that each inch of your space is coated and protected with the disinfectant spray that eliminates 99.9 % of harmful pathogens, including the COVID-19 virus. The disinfectant liquid evaporates within minutes, so manual wiping of sprayed surfaces is not needed. Electrostatic disinfection is fast & effective as it only takes about ten minutes to disinfect a 100 person office space. This makes it an ideal disinfection method for offices, commercial establishments, medical facilities, gyms, spas, and educational facilities.
Common Cleaning Errors Done by Non-professional Cleaners
Non-professional cleaners are, well, non-professional! Spraying surfaces with cleaning liquid and using a single rag to wipe all of them will only move germs around. The cleaning cloths need to be colour-coded and cleaned regularly. Dry dusting only spreads the dust and contaminants back into the air, settling back on other surfaces. So your standard cleaning methods remain primarily ineffective in curbing the spread of air-borne germs & contaminants.
Why Electrostatic Disinfection Is Better Than Regular Disinfection Methods
Electrostatic disinfection scores over traditional disinfection methods as it
Has a strike rate of killing 99.9 % of all pathogens on non-porous, hard surfaces.
Uses a broad-spectrum approach to disinfect multiple surfaces at the same time.
Covers even hard to reach areas as the electrically charged spray envelops and coats all surfaces.
Dramatically reduces disinfection time.
Can cover entire rooms and high traffic areas in a matter of minutes!
Eliminates odours & inhibits mold growth.
Uses precise quantities of disinfectant
Offers complete coverage of hard and soft surfaces.
Zero-contact electrostatic disinfection prevents cross-contamination.
These advantages make electrostatic disinfection a vital tool for keeping your staff and customers protected during this pandemic.
Trust Go Clean Plus for All Your Electrostatic Disinfection Needs
With 20 years of experience and thousands of satisfied customers, Go Clean Plus is your go-to service provider of electrostatic disinfection! We are fast, affordable, and super-effective! Our flexible cleaning packages with daily, weekly, & monthly disinfection schedules can be customized to suit your unique needs. As an essential service, we are open during the lockdown to help you combat the coronavirus!
Dial 647-344-0144 or email info@gocleanplus.ca to schedule a professional electrostatic disinfection service today!